Office Refurb Services
Office refurbishment services from Fusion are an integrated management-and-contracting process to refurbish an office interior. Our objective is to revitalise your office with minimized disruption from the office refurbishment process.
Fusion are a unified contractor for office refurbishment offering all services using tried and tested suppliers, sub-contractors and individual trades.
Our services incorporate:
Space planning & office redesign
Program of works and sequence of moves
Site set-up, CDM administration
Strip out and demolitions, re-use of existing materials
Electrical inc lighting, power and data
Flooring and floorboxes
HVAC including energy efficiency and capital allowances
Audio visual, CCTV and fire detection
Partitions and sliding/folding walls
Decorations and features
Plumbing for teapoints etc
Refurb of WCs
Office furniture (refurb of existing, supply of new, moves and changes)
Joinery
Compliance with Bldg Regulations, Landlord approvals, Planning permission
Internal Comms and liaison.
Project Management
Office refurbishments typically have several objectives. Investing in a current premises is typically aimed at improving efficiency, adapting the space to meet the demands of the business and adopting new ways of working. Staff usually have a wish list as well, and investing in people can be a morale booster. Time spent in the design phase will ensure any and all objectives can be factored-in to the finished scheme. Fusion are experienced in redesigning workplaces and using the refurbishment opportunity to revitalise the office. A detailed space planning exercise ensures all works are captured in drawing format so that all the trades, furniture changes, staff and project team have a single documented record of the before and after with interim drawings if needed.
Refurbishing an Office
Incorporating all trades, suppliers, technical services and project management as one unified source is the surest route to success. Programme and delivery control are a clearly defined responsibility. Design coordination, sequencing of works and moves, and integration of trades is vital when refurbishment works are carried-out alongside staff working in a building, or when an office refurbishment has a deadline for completion.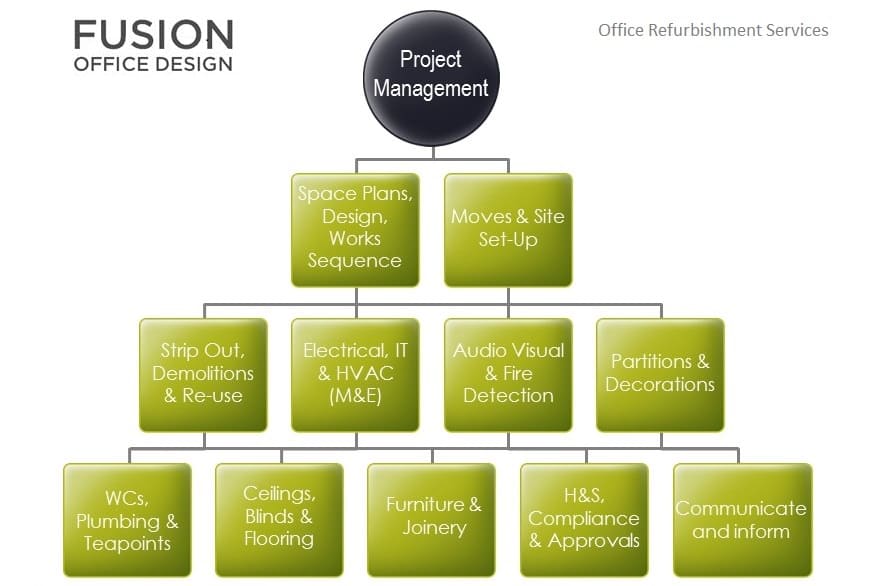 Office Refurbishment Project Management
Fusion refurbishment project managers will create the drawings and lead the redesign process. They're supported by an experienced design team and technical specialists, so that there's absolutly no loss of communication as a project is passed from designer to PM to furniture specialist. Our approach is to place all the knowledge of the scheme with one individual who is present from first meeting to handover. We think this format cannot be beaten in terms of communication.
Integrated Furniture Advice
Office furniture is increasingly the enabler for new ways of working. Our refurbishment PMs maintain a cutting-edge knowledge of trends in furniture designs. Sharing ideas and knowledge is part and parcel of our office refurbishment services. We're active in bringing ideas to the table, taking time to understand when and where a new concept or distinctive furniture piece can fast-forward your interior but all the while keeping an eye on budget. It's this balance of innovation, communication and cost-control makes our brand of refurbishment so effective.