Welcome to
Fusion Office Design
Fusion specialises in office fit-out, furniture and office design in London and the UK. We are known for creating beautiful interiors that are practical and custom.
We fit out efficient, creatively designed offices for successful companies. Using modern office design ideas, the latest office furniture, and objectives for your organisation, Fusion Office Design create transformational office interiors. People love working in offices designed by Fusion.
Office Interior Design & Designers London
Office Interior Design in London is our speciality and the thing we are most passionate about. We bring together interior and workplace design to create efficient, imaginative, offices that capture the spirit of your business.
Office Fit Out
Planning an office refurbishment depends on guidance from an experienced partner. Fusion can project manage, procure and communicate all refurbishments and renovations for a hitch-free result.
Office Interiors London
Our ingenious office designs can realistically improve a businesses performance. Morale, productivity and creativity increase in a workspace that has been designed by us. Fuel bills, absenteeism and resignations reduce. The effect is an improvement in your bottom line. Using our inspirational office interior design knowledge and products such as office pods, we can transform your office into an environment that not only looks good, it works better too.
It will inspire your whole business -inspiring happier more productive staff – inspiring clients from the moment they enter your reception. Whether you need design help for your desk chair options, natural light optimisation or wall decor we can help you.
Design, Fit Out, Refurbishment and Furniture
Office design is our forte here at Fusion Office Design. We know exactly how big a headache a new office fit-out can be; the number of factors that have to be borne in mind can be incredibly daunting. You need the optimum layout for your space, the highest quality furniture and a whole new face for your business, all the while maintaining productivity and efficiency and ensuring a minimum of disruption. Relax. Fusion can take care of it all…
Fusion Office Design London is a specialist in creating and refurbishing office spaces and working environments. What's more, we pride ourselves on the smoothness of our operations, making sure we cause the absolute minimum of fuss and disruption, and that we take all the stress and worry out of your office fit-out. Our job is to create a design you are inspired by, from the initial concept through to furnishings been added, you will be kept in the loop with regular brief sessions.
From the initial consultation to the finished job, Fusion takes care of everything. We employ a team of dedicated and experienced creative professionals that includes project managers, designers and craftsmen.
As an experienced office design company in London, Fusion approach an office relocation, fit-out or office refurbishment project as an opportunity for your organisation. Our structured, integrated, approach, specialist expertise and enthusiastic creativity provide a perfect blend to deliver your project. You can focus on your business whilst getting advice and guidance on the options and possibilities to propel the company forward using agile working and positive re-structuring.
Office Fit Out Costs London
There are no fixed costs or definitive answers to the costs of an office fit-out, however, there is certainly a range of aspects to consider. This can often be too general or inaccurate in decision making, after all your overall office fit-out cost will depend on factors such as size, location and active requirements. 
There are a number of reasons why companies decide to fit out a new or existing office space, your old space may not be big enough to facilitate growth or your lease may be expiring and decide an office move is a better option. At Fusion our office fit-out costs range from £48 per square foot (£520 per square meter). 
Depending on if you are needing an office refurb from the team here at Fusion Office Design offer CAT A standard fit-outs which are £82 per square foot (£850 per square meter) this is for a project that includes a significant upgrade to the building ventilation systems. Prices will vary depending on the specifications of the project, so we always advise getting in touch with our team to make sure. For more information or for your FREE quote be sure to contact the team at Fusion Office Design London today.
Why is Office Design Important?
An office design and fit out can be one of the most transformational events for any business. Improvements to the working environment operate on several levels. A fit out can be a reward for staff; can eliminate factors holding people back; boost team working and collaboration; re-engineer the business for agile working and give the business leadership an opportunity for positive change.
Designing an office is often the visible marker for property to be aligned with business, expanding or re-sizing. Perhaps most importantly, it's a sign of investment in the organisation, and a morale boost for staff.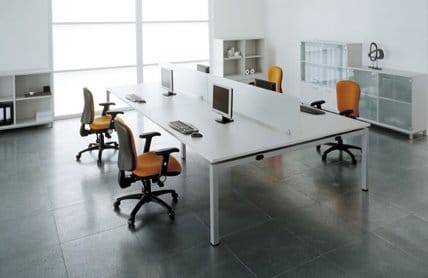 Office furniture design can play an important role in the overall functioning of an office. Getting the office design plan right from the start is extremely important too. How an office is laid out can have a massive impact on how well a business does, so there are many aspects that need to be considered. Fusion's office designers in London can help you to understand the importance of an office design layout and how different interiors can benefit different business types.
An Experienced London based Office Design Company
Fusion fit-out offices with a unique partnering approach. The advantages of integrated design and project management combined with cost transparency and value-based performance make design and fit-out an affordable and beneficial exercise.
Office design companies in London with the skills and experience of Fusion are a rare breed. Combined with the ultra-competitive business approach we believe has created a new form of office interior design and fit-out. Contact Fusion for more details on our unique London office design and office fit-out approach if you are looking for an office design company in London to assist you moving forward.
If you are looking for a fit-out or refurbishment company that specialises in 'office design London', Fusion Office Design can help you moving forward. With years of experience offering office design and fit-out services, we have become of the leading choices among people looking for office design companies that specialise in office interior design in London.
Whether you have plans to relocate or refurbish your existing office, it's important to find a design partner you can trust. Arrange a meeting with Fusion today to discuss your office design ideas and get a feel for what we are about as a company. Every company has a different style and it's crucial that your find a partner you can work with moving forward.