Our Office Fit Out Services in London
We're an office fit out company in London with a unified service for office design and CAT B fit out.
Office fit out incorporates project management, procurement, high standards of workmanship and a knowledge of building infrastructure, to enable the office interior to contribute to business performance. Office interior fit out companies in London with the combined skills and experience of Fusion, and the ultra-competitive approach that we have, are a rare breed.
Fusion Office Design was established to provide cutting-edge office fit out in London, without the high cost model of many office fit out companies in London.
We want all office fit out projects to be enjoyable for our clients. When you choose Fusion you aren't just choosing another office fit out company in London, you're choosing a company that will become part of your business whilst the office is being fitted out.
If you are looking for a company to bring your office to life, please take the time to contact us with details about the project you have in mind.
Whatever your plans for office fit out in London... we can help.
What To Consider Before Carrying Out Office Fitting
Office fit out is one of the largest investments most businesses will undertake so it's important to make sure it's done right and you've take everything into consideration. Some factors to take into consideration before refitting your office are:
Budget
Make sure the budget you have available is enough to cover your office fit out without stretching your finances
Branding
Is it time for a branding refresh? If you're having a fit out carried out why not rebrand or refresh your current branding during the process
Design
Think about the style you want and have you want your office space to appear to both employees and potential clients
Features
Are there any additional features that you might require in your office space such as relaxation spaces or an inside out feel
Employees
Think about what your employees require and how the office interior fit out will affect your employees
Relocation
When the fit out of the office space is being carried out you might need to move into another area or relocate temporarily
Office Fit Out in London
As one of the leading office fit out companies in London and the UK, Fusion are able to transform any space into a modern and full functioning office environment. Having office fit out carried out is a major decision for businesses and that's why it's important to choose a company that has experience in both design and project management. Fusion project manage all office fit outs from start to finish, to ensure the work runs seamlessly and on time. Taking the time to understand your business and what it's about enables us to carry out an effective fit out service that meet the requirements of both the company and the people that work there.
Office Design and Fit out in London
Whatever your plans for office fit out London… we can help. Fusion give advice and guidance, provide a planning and fit-out design service without charging for initial concepts, submit a cost plan and project critical path… so you can evaluate exactly what Fusion is capable of as well as evaluating layouts, designs and program dates for the office interior fit out. Whether you want to fit out a boardroom, reception area or a full office fitting out… let Fusion take on your project.
It's important for office fit out design to be tailored around your business. As design experts, Fusion will help to overhaul your office space with a modern and ergonomic design. With a transparent pricing structure, the fit out of your office won't cost you more that you expected it to. Offering fixed costs, you'll only pay for the fit out service you receive. The interior of your office space will be overhauled using only the elements of the design you've agreed to. Communication with you throughout the design, Fusion will adapt quickly to any changes you might need making to your office fit out.
The Fusion Office Design USP
Our office fitting out services are delivered via a unique business approach to commercial category B fit out (CAT B meaning Tenants fit out). Combining the advantages of Design & Build, cost transparency and zero mark-up creates an unrivalled cost and delivery advantage. You simply can't get a better value and performance offer. Office Interior Fit Out is a combination of many areas of expertise, and a tried and tested format sets any project on the right path from the word go. Commercial fit out companies need to have clarity when a project is in full operation and our simplified, transparent, D&B formula gives assurance and confidence.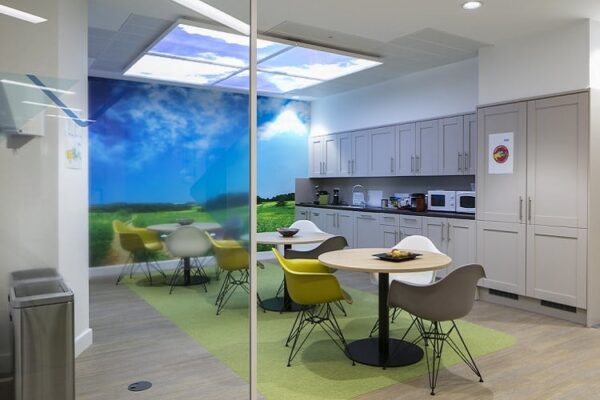 We call it TUF Office Fit Out - Transparent, Unified, Fixed Price.
Services from interior fit out companies typically progress in a logical sequence.
Design And Space Planning
Space plan drawings, design sketches, M&E services drawings – together with the capture of solutions to practical problems and efficient use of space.
Survey Of Existing Services
Evaluate the fixed systems in an office that need to be serviced, upgraded or replaced. Office fit out or refurbishment is an ideal time to ensure that mechanical and electrical systems will cope with the demands of the office.
Costing And Project Management
Our Design & Build format means the design, and scope of works, can be balanced with the Costs to deliver a scheme that fits your budget, and our Project Management skills provide a finished project that meets all the promises.
Specify and Purchase
Fusion put forward products and finishes, furniture, fittings and equipment (FF&E) and get best market rates available to office fit out companies.
Deliver Works To Program
Our scope of work covers every aspect of office interiors, external refurbishment and the design of work processes. We use a consistent group of Trades for the key aspects of all projects.. partitioners, ceiling and flooring, power data and lighting, and add specialist Trades as a project demands.
Moves & Installation
From office design and office fitting out through to the final occupation… our commercial fit out service will help you to cover any and every part of an office interior refurbishment or relocation including internal moves, crates and packing.
Office Fit Out London from Fusion
Fusion want all London office fit out projects to be enjoyable for our clients. A positive experience fitting out your office is both an investment and an opportunity to inject dynamic momentum. Design and build is by far one of the most effective ways of tackling office interior fit outs. When you choose Fusion you aren't just choosing another office fit out company, you're choosing a company that will become part of your business whilst the office is being fitted out. Offering a close working relationship allows Fusion to fully understand your requirements for office fit out.
Office Design and Fit out in London
The best fit out companies in London need to operate to the highest standards. Fusion are experienced in working for professional organisations and our standards match our clients requirements in every respect. Office fitting out is a process best implemented with a partnering approach which is at the core of our values. Partnering between office fit out companies and clients makes any project a win-win format. Fusion sees itself as an extension of the clients' team, part of the support service to the overall organisation.
Fit-out is more than trades and materials. It incorporates a multi-disciplinary skill set enabling the seamless delivery of an office interior designed for the needs of our clients today, and looking ahead. Not only will our design process accord with your goals and vision for the organisation, we'll ask searching questions about change, what-if factors and suggestions to consider. An office fitting-out is an opportunity that should be maximised. The contribution of furniture ideas greatly enhances our office design and fit out schemes.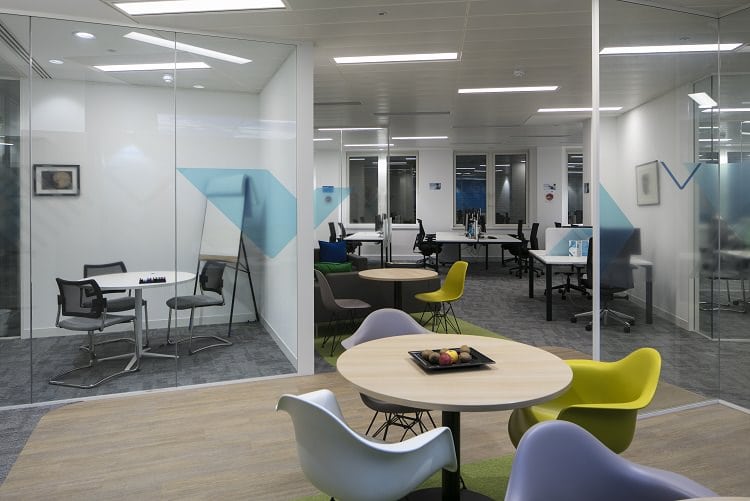 Robert Walters Covent Garden
Fit Out Case Study
Office fit out for a new HQ in Covent Garden, London, acquired during development construction, with a mix of high density office space with impressive facilities.
Fit Out Case Study
Basware merged two London offices and a Surrey office into a single new office in the heart of the City in London, creating a mix of client-facing meeting rooms, team offices and open plan areas.
Fit Out Case Study
A central London office design and fit out for The Collinson Group, relocating to combine two buildings into one new HQ in Houndsditch London EC3.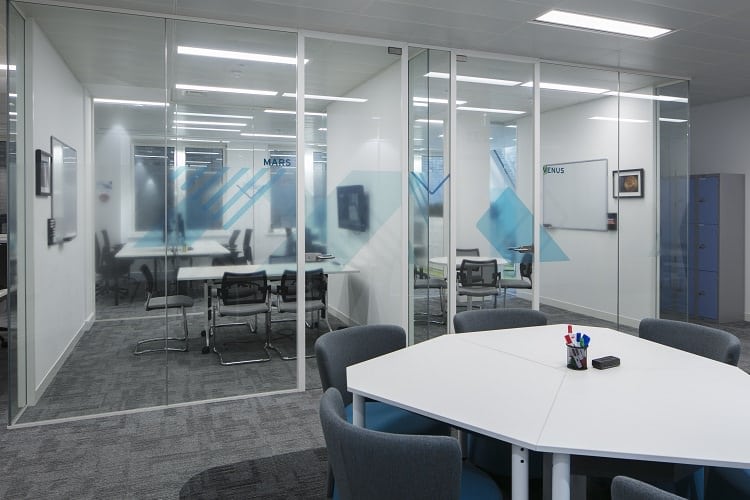 Office Interior Fit Out in London
Fusion are experts in blending furniture and ways of working with building services and layout design to achieve a balanced, considered, office interior appropriate to the budget, the objectives and the timescale. Integrating furniture into an office design and fit out scheme makes the most of opportunities to integrate service, space and functions, and unifies a project both for effective timelines and elimination of clashes, cost problems and miscommunication.
End-to-end design and office fit delivers the most accomplished results, both in terms of cost-control, cohesion and program. The Fusion approach is to have a single contact leading the project at the design stage right through to management of the works. The advantage of this is to convey all the concept design thoughts, ideas, and agreed actions into the physical build, ensuring nothing gets diluted in translation. All too often projects are built in ways that fail to capture the design intent. With Fusion the office design is delivered into the physical fit-out by someone immersed in the office design phase.
Frequently Asked Questions