Fusion have installed new Boardroom Furniture for a leading Hertfordshire law firm based in St Albans. After careful consideration the Turntable range was selected in a crown cut walnut which adds a depth of tone to the boardroom.
The boardroom table configuration was designed as 2 tables in a smaller room to seat 10-12 people and 3 tables for 14-16 in the larger adjoining room. A sliding folding partition divides the two rooms allowing all 5 tables to be configured as one overall 24 seat conference table. All 5 tables are veneered in matching walnut so that when joined they are consecutively veneered.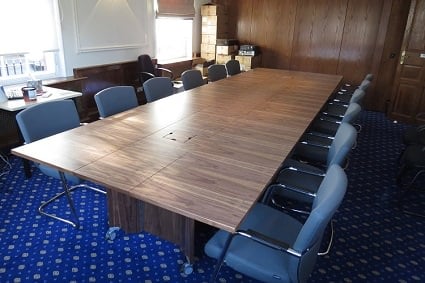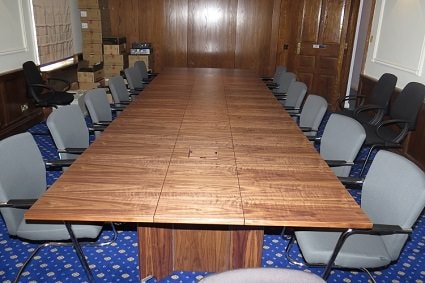 Cable management for the boardroom table is accessed via hinged cable flaps in the surface, veneered to match the tops. Within the tables the cable modules for power and data are contained in loose modules allowing them to be extracted or positioned as needed.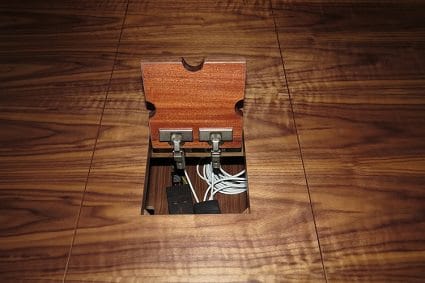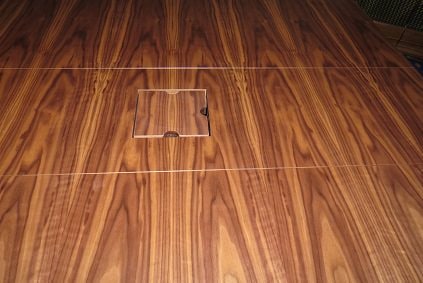 An unusual configuration for floor boxes has been installed. The two boardrooms have a solid concrete floor. Floorboxes are located under just one table in each of the two rooms, with new channels being cut into the concrete. Cables are routed to socket modules using cable management raceways in the tables.
To see the Turntable folding boardroom table range see our Furniture section under Folding Boardroom Tables or get in touch with Fusion Office Design for more information today.