A business needs to have a functional and comfortable space for its employees. The office design layout should be well thought out and planned. Your business will benefit in many ways if you make the right choices in this area.
To get started, think about what type of industry you are in. If you are trying to attract top talent, then you will want an office that is appealing to them. They may want more open spaces or more private ones. Hybrid working might be a route to go. Mixing conventional desk space with Teams spaces, breakout areas, quiet spaces and collaboration zones dramatically changes the style of the office. This influences the way people work and interact. Just by re-thinking the office design layout. 
Our team here at Fusion Office Design have provided design services for several years; during this time, we have developed the perfect ways to help you decide on your new office layout; continue reading to find out more. 
Office Design Is Incredibly Important For your Company
If you are dealing with clients regularly, it can be helpful if they are easily accessible by others in the office. However, you also want to ensure they have enough privacy when needed.
Your office layout can significantly impact how your employees feel about their work environment and productivity. If you want to create a space that boosts morale and productivity, here are some factors to consider when deciding on an office design layout for your business.
Carry Out Plenty Of Research!
Before you set out to design your office, make sure that you have done enough research on the available options so that you do not waste time and money by making mistakes at the beginning of the project. 
There are different office designs available today, each with pros and cons. You need to be aware of these so that when it comes down to selecting one, you can make an informed decision.
What Will Work Best For Your Company?
Deciding what office layout is best for your company's needs helps to know where you're headed. For example, if you anticipate that your team will need more space in the next few years, it may be worth investing in an open floor plan now so that you have room to grow without having to move again shortly. 
Or if you're planning to add more staff next year and need a way to divide up workstations quickly, so they don't get overcrowded quickly, consider designing a layout with dividers between desks or cubicles rather than one big room with no barriers between employees' seats.
In addition to considering how many people will be working in the office at any given time, also consider how much privacy each person needs. If everyone wants their own office space with a door that closes behind them when they want some quiet time, then don't waste money renting out an entire floor full of cubicles just for one person! Instead, rent out individual offices or shared workstations (depending on how many people will use them).
Ensure that every employee has easy access to supplies like paper and pens as well as printer paper and toner cartridges for printers when needed without having to go through someone else to obtain them or ask someone else.
Will Your Team Be Happy In this New Office Space?
Another thing you need to consider when designing an office is how comfortable it will be for your employees. This means providing various seating options, including desks, couches and standing desks. It also means providing plenty of light and ventilation to keep them healthy and happy.
The best layouts are flexible enough to accommodate different work environments and activities and can be adapted as needed. This will allow you to move around furniture and add or remove walls as needed based on the needs of your staff or clientele at any given time.
If you have shared workspaces, ensure there are no noisy areas where people must work together regularly. If possible, try out different layouts before choosing one that best suits your needs. For example, if you have cubicles or U-shaped desks in an open-plan office layout, try putting them in different arrangements.
Security and privacy concerns are also significant when choosing an office layout. Large glass windows can make offices vulnerable to theft and vandalism if the building lacks adequate security measures.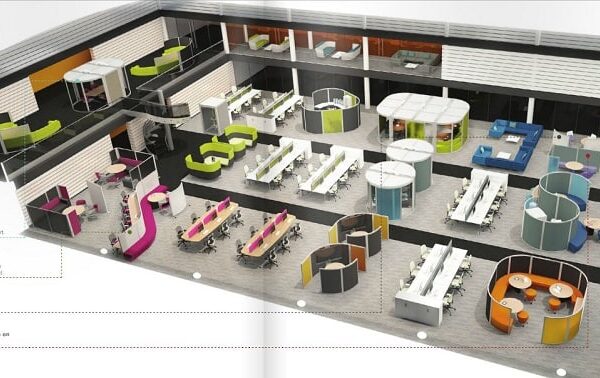 Do Not Skip Furniture Shopping!
Do not overlook ergonomics! When choosing an office design layout, ensure that your workstation meets all ergonomic standards set by health experts. 
This means that your desk should be at least 30 inches wide so that you can move around freely, and your chair should have adjustable arms and back support so that you are always sitting in a posture that promotes good circulation in the body and prevents muscle strain from prolonged sitting. 
Choose Fusion Office Design For Design Services
​​ If you are in the process of designing or redesigning your office, it is essential to take into account the layout of the space. How your employees work together and how they interact with their surroundings can have a significant impact on their productivity. 
A well-designed office can help improve communication and collaboration among team members while fostering a positive work environment. Contact Fusion Office Design today for more information about our services and to start creating an office layout that works for you and your team.
Our team have designed offices in and around London for several years, offering some of the highest quality designs on the market today; we specialise in helping you get exactly what you need from your new office space, so give us a call today!