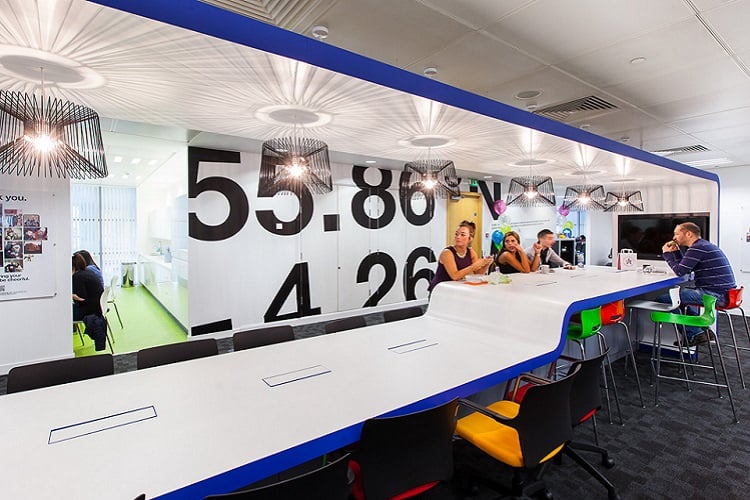 Designing the office layout has altered radically since the days of giant CRT monitors meant every workstation had to be 8′ long in two directions. Flat screens and small PCs allow a much reduced footprint, and desks are no longer the sole setting for work as 3rd space solutions become mainstream.
Whereas the space requirement per person was always set at 100 square foot per person, with new offices starting off at 140 sq ft per person, increasingly the norm is for 75 or 80 square feet. The financial implications of this are notable.
A 35,000 sq ft office for 350 staff (1:100 sq ft per person) could be said to be 30% less cost effective compared to the same space occupied by 500 staff. A notional central London rent of £1.75m per annum equates to £5,000 per head for 350 versus £3,500 per head for 500 staff.
Put another way, a 1:70 density saves £750K per annum compared to conventional occupation.
Two recent projects of this size show what's possible, and the capex impact to achieve very high density office occupation. Robert Walters office in Covent Garden, and The Collinson Group in Houndsditch, both have a density of 1 person per 70 square feet across 35,000 net lettable. In both cases the fit-out costs for items such as furniture, power and data, meeting room ratio etc are pro-rata to the number of staff. However some fit-out costs have a non-linear relationship.
Indoor air quality requires frequent air changes to prevent the build-up of CO2, which affects concentration levels. Offices can be poorly ventilated especially when the base-build design criteria is far short of 1 in 70. The difference, in terms of productivity, between poorly and properly ventilated space is in the region of 8-11%. Temperature, particularly cooling, impacts worker productivity which can fall off if people are too hot or too cold. Costs to enhance air supply and temperature are often in the range of £500-£1000 per person once density exceeds base-build parameters.
Sound interference is typically problematic with high density occupation. Greater control of reverberation (speech bounce) and noise decay, which are two ways to determine the scale of the problem, can be controlled but require investment in sound absorbing material (ceilings, carpet quality, screens and wall panels in most instances). Costs of £75 – £100 per person are not unusual.
As well as increases in capex, heavily used facilities such as teapoints, lifts and WCs may require enhanced maintenance to cope with the workload. Carpets will exhibit greater wear in the main traffic areas and may need replacement sooner.
From experience we know the rent saving, in the examples above, of £750K per annum doesn't flow entirely to the P&L. Increased capex on the fit-out together with higher ongoing maintenance do absorb some of the savings. Over the course of a 5 year lease it's entirely realistic to see savings of £3m from a high density layout.
Fusion Office Design are expert in planning high density offices. Contact us for advice on how to achieve savings without impacting the quality and productivity of the office.