Offices can be a significant part of success in business…showcasing the standards and quality of your company, attracting good staff, assisting people to work, not putting up barriers and difficulties. Getting the most out of people is also a recognition of the social elements of work…people want to work with like-minded colleagues, they want to have interaction and discussion. An office can contribute to the business on many levels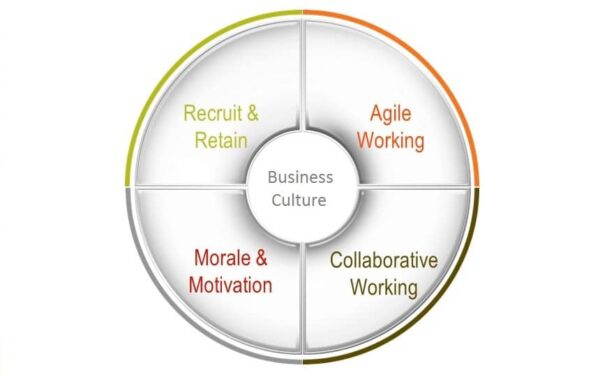 The office needs to work for the business on several levels.
Bringing in the very best new staff to a business is a vital part of maintaining, or improving, the capabilities of the organisation. Office interiors consistently rank as an important part of the recruitment process, particularly as a new generation, used to the higher standards of Academy schools and upgraded universities, enters the jobs market.
Offices can be the most obvious example of the working standards, values of a business, and the ability of a management team to achieve standards and values throughout a business. Offices will also be a constant, able to convey the standards day after day, a coded example of management in practice. On top of this, standards and values are promoted to all staff, not just permanent. Every time a remote worker returns to the office it will reinforce the values and standards, without any effort from the leaders of the business.
Retention of staff is one of the major factors in business success. It's also a significant cost to lose people….the cost of a new recruit to replace an established person can be an extra 70% of salary on top of the actual wages paid. Offices have a role to play in retention….both in practical terms and attitude. Also, satisfaction with work is heavily dependent upon relationship with direct colleagues…and these relationships are influenced by office layout.
When people are by far the biggest asset in a business….the means of creating revenue…getting staff to work more effectively is a major route to future success. Human behaviour at work….what do employers want, how to achieve it, how to change it? The office is a vital part of behaviour, both as a positive and as a negative.
Collaboration is a hallmark of work, but an office that physically hinders groups and teams can inhibit. Innovation can originate anywhere in a business, but a restrictive environment can stifle lateral thinking. Improvement can be formal or informal, but the desire to improve is as important as example.
Work…the output of tasks…has a physical dimension even in an office role. Offices need to function for all the practical tasks and actions that are needed in a days work..and when they do, staff can deliver not just the defined job role but also the 'nice to haves' such as innovation and creativity, not to mention any improvements in staff retention.
Offices are occupied for a reason…companies group staff together to deliver shared functions, to allow a cohesive management format, and to form a sense of identity around the business. Selecting these and subsidiary objectives should form the basis of office design and help set the objectives that the office is aimed at.
Change happens…as the saying goes. How we harness changes in markets, employment and behaviours is often a feature of successful business…predicting and directing change can be a great deal more beneficial than reacting slowly or negatively. An office interior can be a strong inhibitor to change, adding to the inertia in a business, or it can be a leader, showing staff that change is positive.
CONTACT FUSION FOR A 'CONTRIBUTE' DESIGN CONSULTATION