Everything You Need To Know About Hybrid Working
The way we work is changing. With the growth of technology, more and more people are working remotely or from home. And now, with the rise of hybrid working, the traditional 9-5 office job is starting to change. So what is hybrid working, and why do so many people believe it's the future of work? In this blog post, we'll explore those questions and explain why hybrid working could be an excellent option for you. 
The global pandemic has changed the way companies expect their employees to work, focusing on ways to increase productivity and stay safe and social distanced; this change has become known as "hybrid working" across the country. Our team here at Fusion Office Design has been supplying and installing office fit-outs that promote hybrid working for several years now; during this time, we have become experts; let us explain to you why hybrid working will change the future of the working day. If you would like more information, please feel free to get in touch with us or take a look at the rest of our office design website.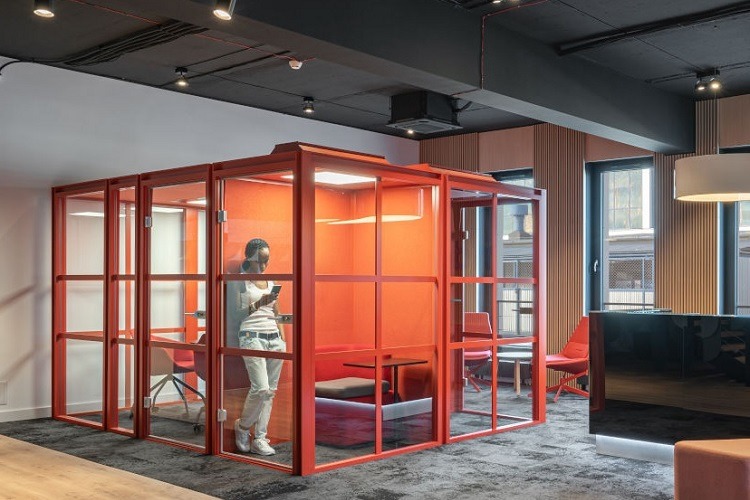 What Does Hybrid Working Mean For You?
It goes without saying if hybrid working hadn't reached your workplace before the global pandemic hit, it would have arrived by now; hybrid working will change the face of the working office drastically for some companies, others you will just see subtle changes. If you are considering giving hybrid working a go within your own business, you will need to understand how it can change the dynamic of your day to day procedures. 
Our team at Fusion Office Design have put together a few main changes you will need to be prepared for when you decide to implement hybrid working throughout your office. They are as follows;
Hybrid Working Puts Demand On Your Infrastructure
Whether you are a large company or a small one, the change hybrid working will bring to the technical infrastructure you have in place will be felt, especially if you have staff coming and going, some days needing only a handful of desks that are internet ready, by that we mean ethernet ports. Still, other days you will need full access to all of your office staff, alternative workplace, and other areas. 
Having the right technology in place will make transitions through the working week easier for your staff, primarily if they work some days from home and some from the office. Your technology needs to be up to date enough to handle the changing workloads.
What Is Hybrid Working?
The term "hybrid working" has been around since before the pandemic but is more readily used now by companies up and down the country, it is a combination of working full time in the office, flexible hours, working from home, and working to different schedules. Its simplest form is keeping employees as separate as possible to help with social distancing and minimising the risk of employee sickness; some of your staff may work from home, some may work in the office, or you may alternate shift patterns. 
Hybrid working doesn't have a specific rule; it works best for you and your company. What works for one office may not work for another; it can be changed and updated to suit your office needs and your staff's individual needs.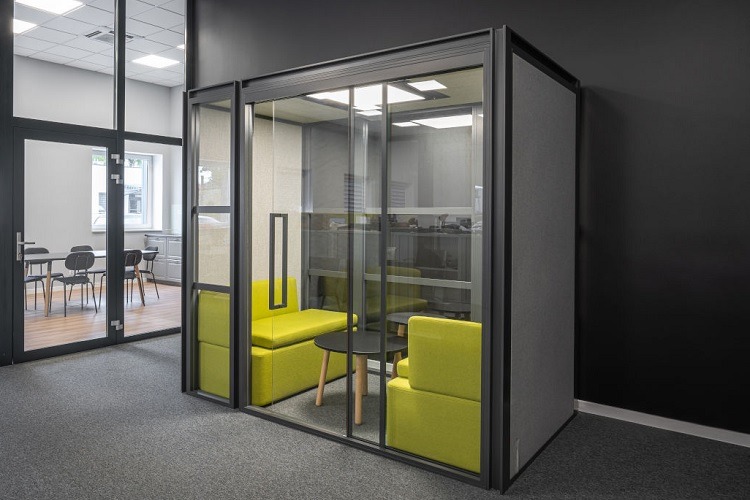 Hybrid Working Keeps Everyone Safe
One of the most significant changes we have seen through hybrid working is the ability for people to work from home to stay safe during the pandemic. However, companies such as ours have alternative solutions such as office pods and moveable furniture pods so you can arrange your office in a way that provides inclusive working or a way that provides social distanced working. 
Having a safe space for your staff to work will make them more likely to feel like they will be safe and cared for in the office, giving them the option to work at their desk around other people or distance themselves in a hybrid working pod.
Hybrid Teams Will Need To Collab Differently
When it comes to hybrid work, the way your office teams will work together will without a doubt change, the old meeting procedures of everyone sitting around a large conference table together in the same room won't happen as often now. Your company needs to be prepared for more meetings over video conferences, and our office fit-outs can provide you with the ideal solution. 
Have you considered hybrid working office pods? Ideal for your staff who need to have conference calls with other team members working from home or with clients who need to have appointments.
Hybrid Working Needs To Be Managed Properly
Finally, we want to highlight the importance of managing hybrid working correctly, whether you provide hybrid working in your office with office pods, breakout rooms and other solutions or it is hybrid in the sense that your staff work from home, it needs to be appropriately managed. It is easy for your staff to get settled at home in the hype of hybrid working, but managed properly; it can promote creativity, performance and help produce higher quality work from your team. 
Our team at Fusion Office Design have always promoted hybrid working in the office, and coming out the back end of a global pandemic, you will be able to have hybrid working in your office space with the use of our office refurbishment services, office fit-out services, office furniture and also our breakout room designs. Hybrid working will change the future of your workplace; let us help make it an easy transition.
Contact Fusion Office Design For Hybrid Working Support
The working day is changing, and the future of work will be hybrid. This means that you'll have to learn how to manage your time differently so you can take advantage of opportunities in both an office environment and on your terms. If this sounds intriguing but confusing, contact us at Fusion Office Design for more information about our services and what we do best! We love sharing valuable tips with other business owners interested in learning new ways to increase their productivity while still having a life outside of work. 
Having provided companies across the country with office fit-out services to help integrate hybrid working setups as well as full office refurbishments, we are, without a doubt, the right company to choose to help you. If you want to find out more, please feel free to give one of our team members a call today.