Expanding the office space can be within the same building, or into a nearby premises. In either case there are some practical considerations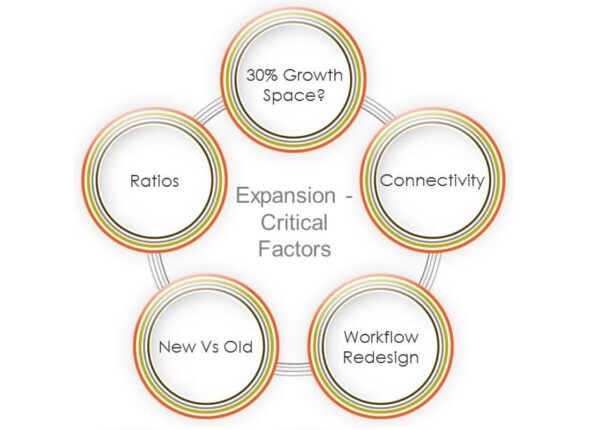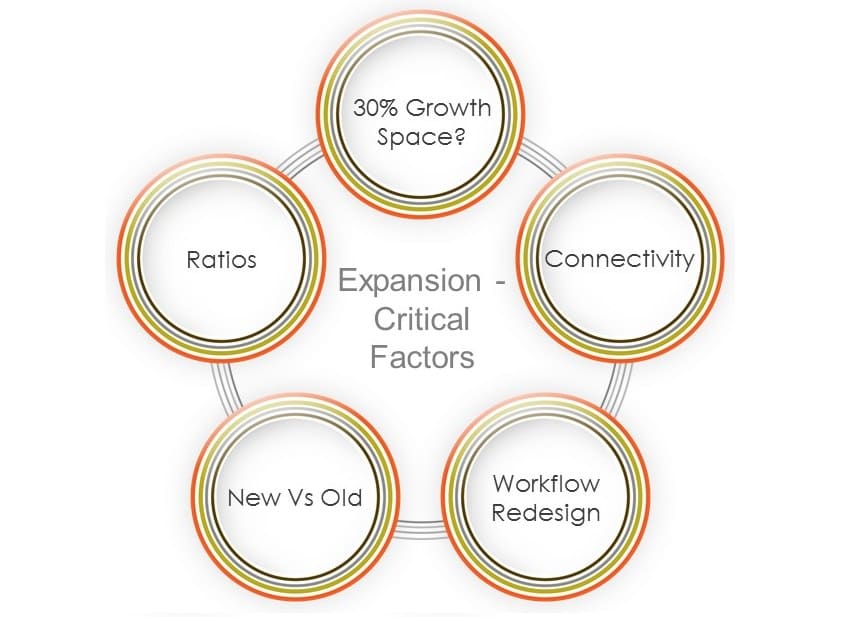 The amount of office space to occupy is a really important decision. Too much and the cost of office space can be a significant loss of profit in a business. Too little and a relocation can miss all the opportunities available via expansion, or need to take place again all too soon.
From experience, we've found that on average clients allow for 30% more office space than is needed at first occupation.
Overspill offices can come with particular challenges. Typically the opportunities of an additional office space also impact upon the existing office interior. Often a budget and program of works covers not only the new office but also the existing office as well. New space can make the current demise feel outdated or tired, and a low-cost 'refresh' can be money well spent.
Adjacent office space within your current building can be both straightforward, and problematic. The easy bits are the stationery and phone numbers, harder can be linking the systems and planning the management of two offices.
Expanding offices can be an opportunity to change layouts to reflect or redesign workflows, new adjacencies between teams, and cater for growth in numbers. It can also be a problem deciding which team to fit into the physical space. Options from a space planning exercise, or block and stack planning, can be invaluable when deciding who fits in the spaces.
An office relocation decision should always evaluate the possibility of staying in the current demise. Costs to relocate, as well as the disruption to the business, will always be important factors. A thorough review of the stay or move equation is a worthwhile exercise.
CONTACT FUSION FOR AN EXPANSION DESIGN REVIEW