Freestanding Whiteboards
Fusion Office Design have installed freestanding whiteboards for two clients. The two projects show the versatility of our whiteboard system. An office in Canary Wharf for a global bank has our free standing whiteboards installed throughout the open plan areas. Unusually the design includes fixed free standing whiteboards used as divider screens in front of a media bench. The grey frames are set into white head tracks for a cool design.
High Quality Free Standing Whiteboards
Our range of free standing whiteboards are perfect for meetings, brainstorming sessions, and a range of other collaborative events. They can be conveniently stored away when not in use, saving valuable wall space. The whiteboard on wheels can simply be brought in whenever it's required. 
Here at Fusion Office Designs we offer a range of whiteboards including a variety of features including swivel boards, locking castors, portrait or landscape orientations and pivot boards. If you are in need of any information, then don't hesitate to contact our friendly team today.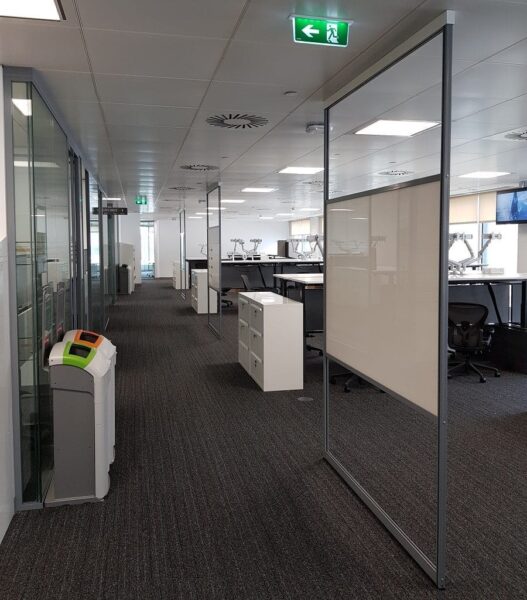 Whiteboard screen in an open plan office.
The slim profile uprights used to support the whiteboards and the open sections above and below help to maintain the sense of open plan whilst giving a feeling of definition to the space. The integral whiteboard gives the screens a functional purpose.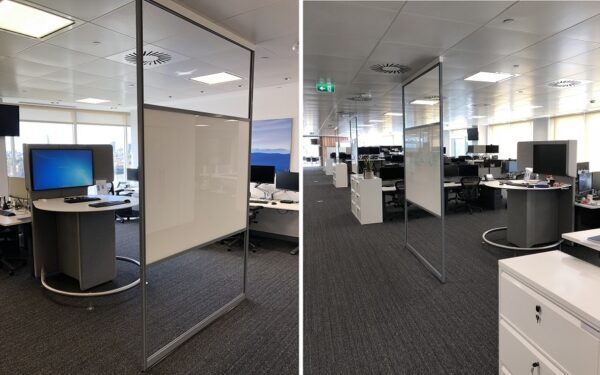 The zones create a mini team space or a compact VC spot that sits in amongst the workstations for immediate use without actually requiring walls to be built.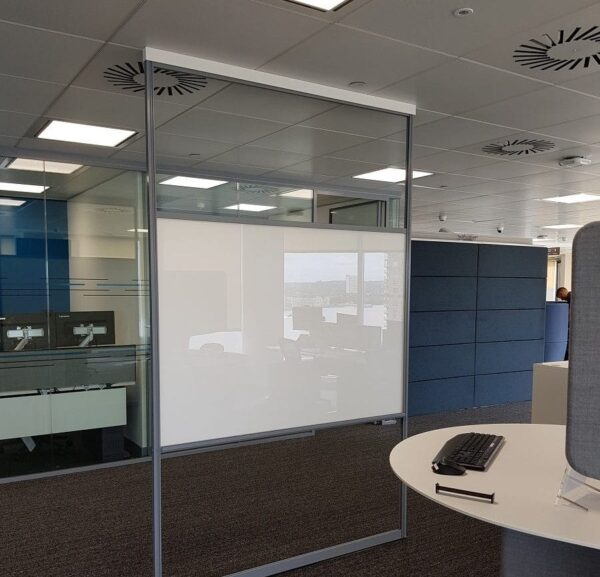 As with our sliding whiteboard system these freestanding whiteboards have all the weight on the base track, here set into the carpet. The top track is just a guide to keep the panel upright. No ceiling alterations or reinforcement was required and installation was quick and easy. To move the free standing dry-wipe board would be just as simple and would leave the ceiling intact with no reinstatement required.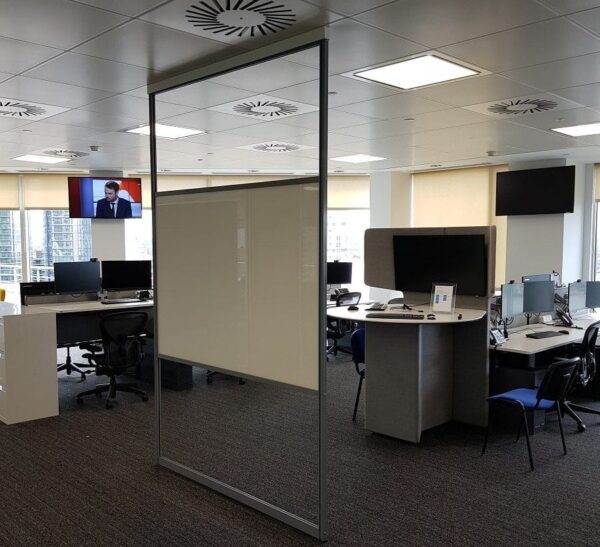 Sliding Whiteboard Walls.
In addition to the freestanding whiteboard screens this project also includes a 'war room' screened by sliding whiteboards. The stunning views over London Docklands are available to all when the sliding whiteboard walls are opened.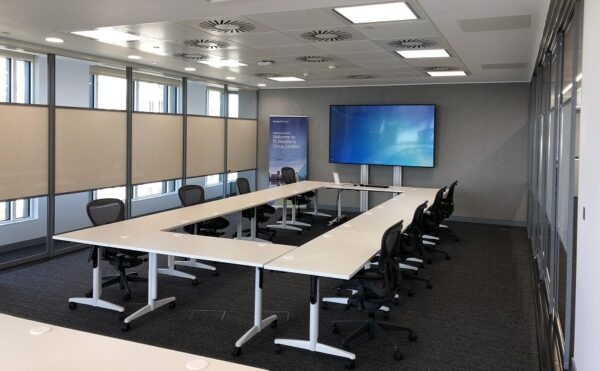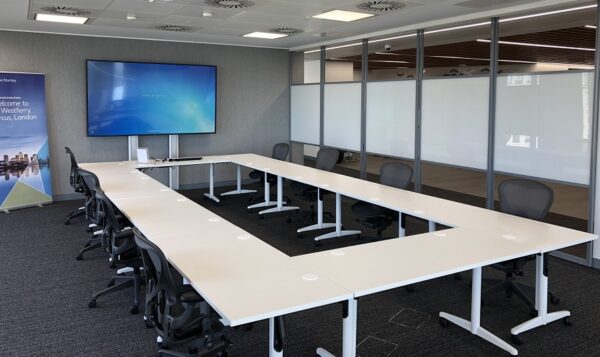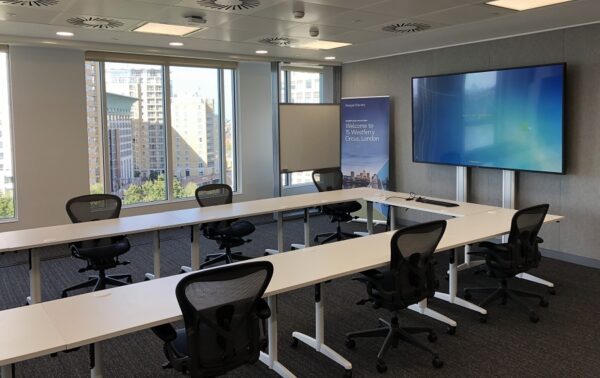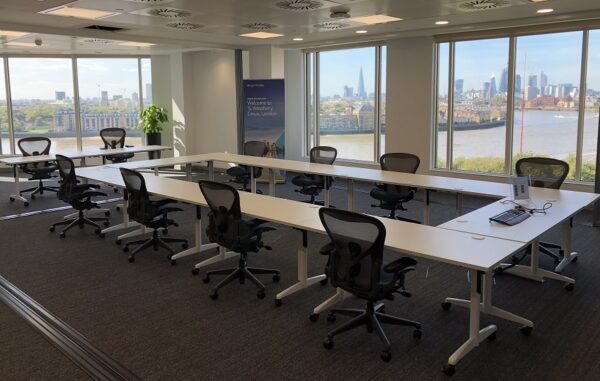 The multi-channel tracks allow the entire wall to concertina and slide into a single panel width when 'parked'. The grey floor tracks blend into the carpet to minimize the feeling of separation. Sliding whiteboard walls have the effect of creating a more accessible space. The whiteboards are light and easy to slide. Adjacent to the open plan, this convenience fosters a 'drop-in' style compared to a closed meeting room which supports team working.
Floor to Ceiling Whiteboards
The second installation, in Oxford for an education IT infrastructure organisation, uses floor to ceiling whiteboards positioned on the perimeter of the space.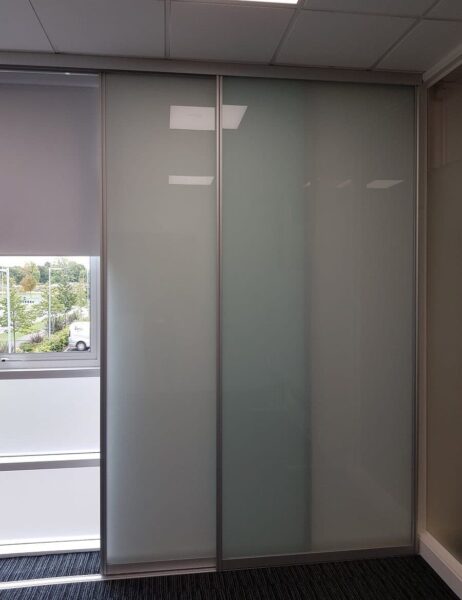 Using our standard sliding system these floor to ceiling white boards have semi transparent dry-wipe surfaces to allow light from windows to be retained.
Together these two offices show how our whiteboard system adapts for different settings.
For Free Standing Whiteboards, Contact the Team at Fusion Office Furniture Today
If you're in need of free standing whiteboards, Fusion Office Design has got you covered, get in touch with our team today. We're home to a team of professional designers who specialise in providing a range of free standing whiteboards. Our range of free standing whiteboards are efficient and creatively designed to make sure that you receive the maximum success for your business.