City of London Office Fit Out
Fusion Office Design have completed a 6500 sq ft office fit out in the City of London. The office in Old Broad Street has been taken from a CAT A condition to a fully fitted-out CAT B stage in 5 weeks. The new office brings together several teams, previously spread across several buildings, and features a flowing open plan office design scheme punctuated with flexible team spaces.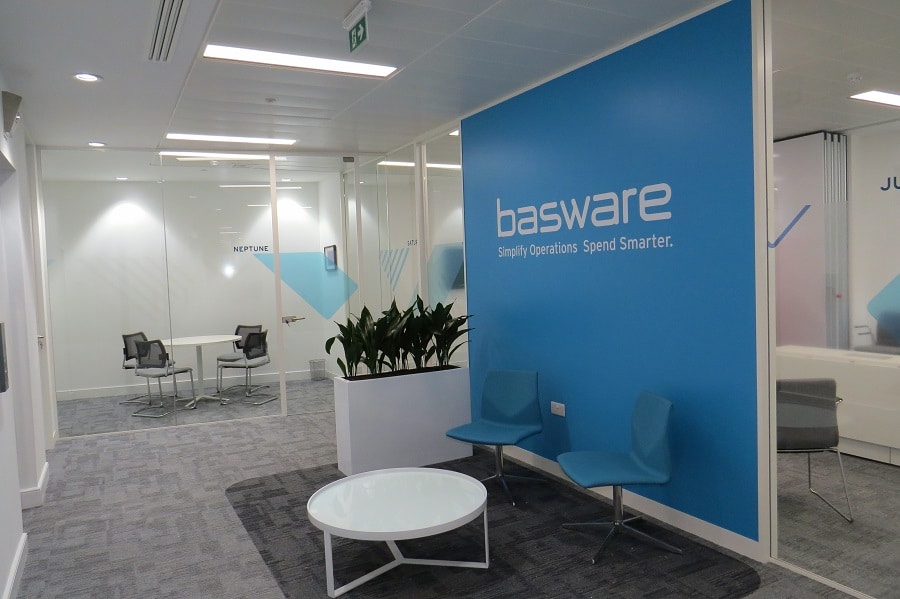 A subtle element of the office design is the radiused corners used for a number of carpet 'islands'. These soften the angular shapes of the partitions, lending an overlay effect much as a rug or layered clothing would do. They also help to define areas without being too sudden. The manifestation design for the glass partitions is also gentle, but has a modern style that is interesting without being strident. The graphic is also used on desk screens to denote hot desks.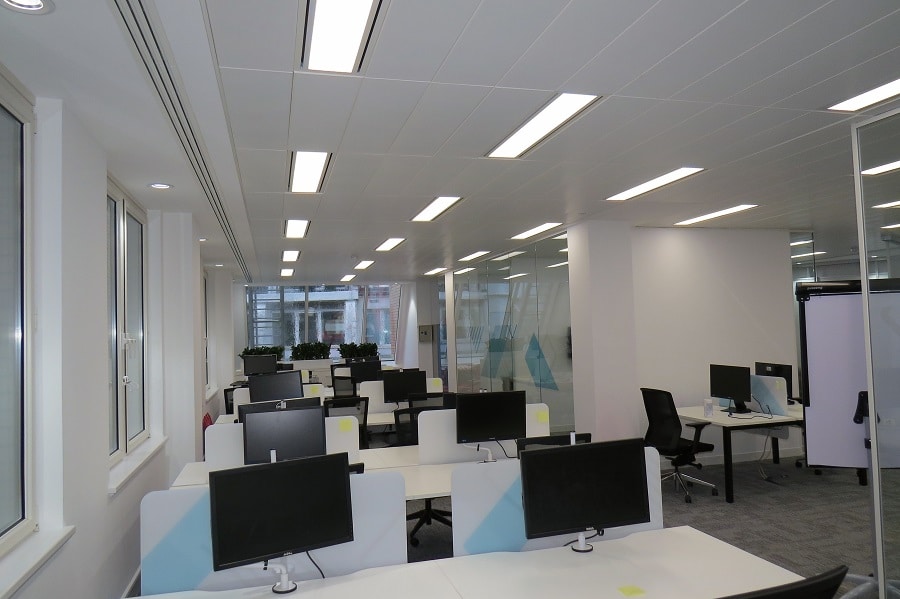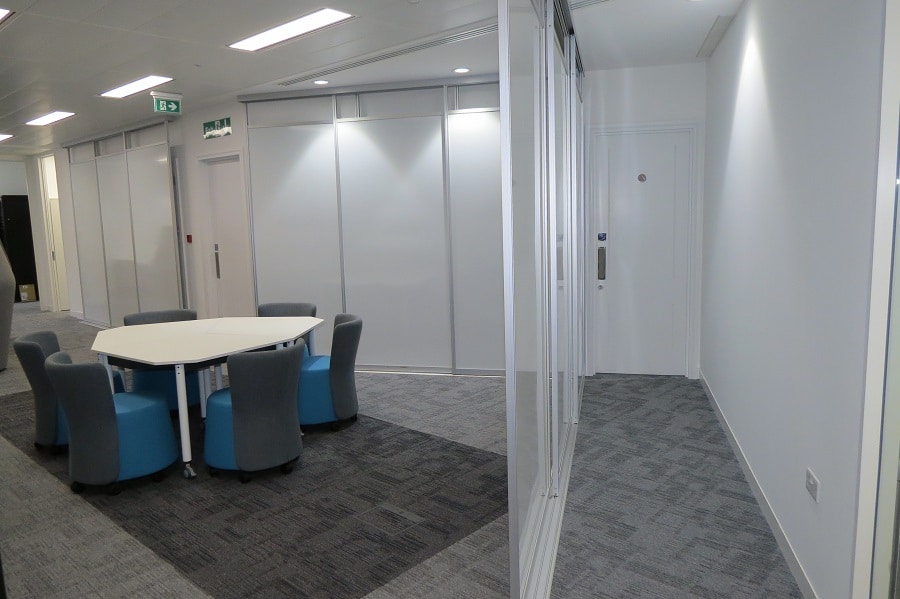 The team scrum space is framed by two lines of mobile whiteboard walls on tracks. These allow the space to be partially enclosed or drawn back (like curtains) when the space is not in use. The soft chairs on wheels add extra sound absorbancy whilst the cluster of tables is made of three sections which all fold flat.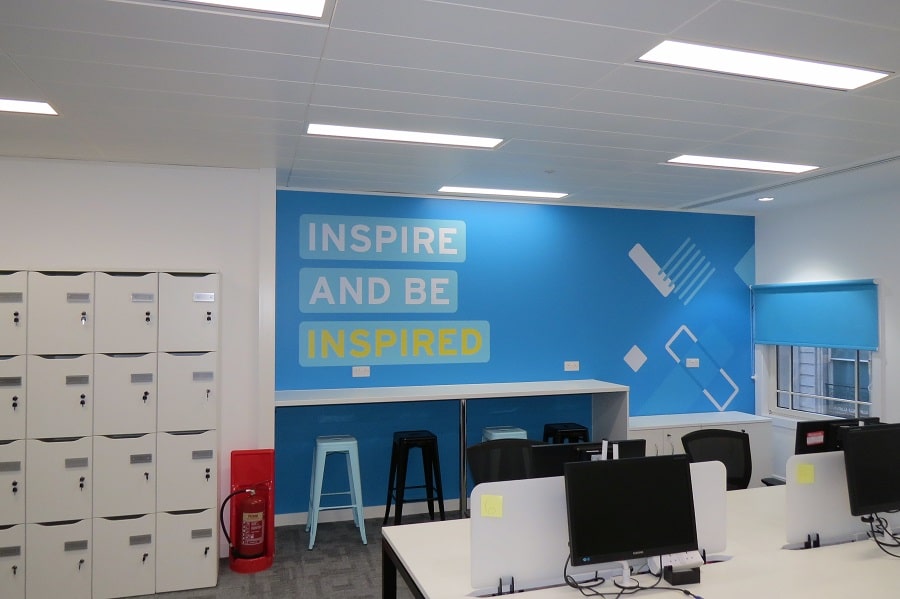 Office Kitchen Design Ideas
The teapoint kitchen is located where services (water and drainage) dictated, an internal space furthest away from external windows. To offset the location Fusion used design ideas of natural lighting and a large graphic with a 'meadow' image to create a sense of connection to the outside world. Set on a 'grass' floor under a 'sky' ceiling the office kitchen has a calming and relaxed feel that offsets and tones-down the brilliant white LED lighting elsewhere in the office.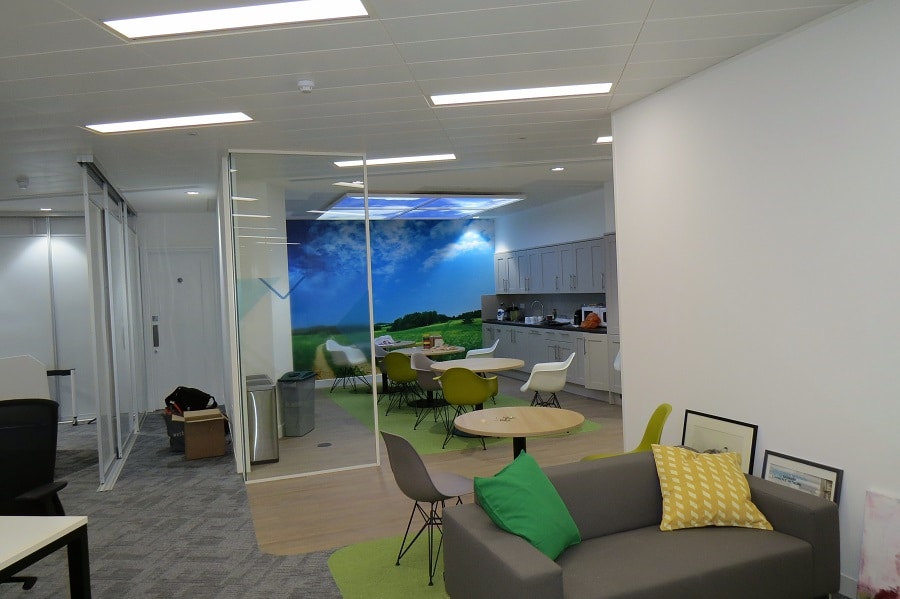 The London office fit out project took 5 weeks from start to finish and includes a mix of new and existing furniture that have been blended to achieve a cohesive appearance.
Fusion designed the office fit out interior scheme in less than 4 weeks from initial brief to the 3D visuals, site drawings and project management program. If you're thinking about an office fit out contact Fusion Office Design or click here to see more images of this London office fit out