Office pods are a great way to maximise space and help employees collaborate. They can be used in an open office plan or as standalone spaces. Office pods are a great way to add a bit of fun and creativity to your office space. They provide a space for employees to relax and have fun while allowing companies to stand out from their competitors.
Here at Fusion Office Design, we have helped companies around London integrate office pods into their ways of working; if you are looking for new and exciting ways to offer working solutions to your office, be sure to get in touch with our team! We are always more than happy to help in any way we can! 
What Are Office Pods?
Officially known as "flexible-use spaces," office pods are a relatively new phenomenon in the workspace. While they used to be confined to tech startups and other companies that specialised in open office plans, they're also popping up in the offices of more traditional companies.
You may have heard that pods are great because they offer privacy, but this isn't always true. Private offices offer some employees privacy and others no privacy at all. And even if you have a private office, it doesn't mean you'll get any work done. Like most people, you don't feel comfortable working around others when everyone else is at lunch or out of town for an offsite meeting.
Pods offer a nice compromise between the two extremes. They give employees some privacy without isolating them from their colleagues completely. In addition to protecting from distractions, pods can also increase productivity by allowing employees to do their best work without having to be interrupted by others who might need help from time to time.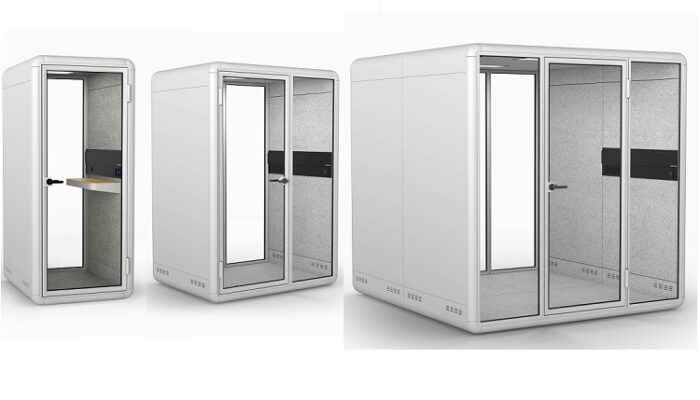 How Do You Decide If An Office Pod Is Right For You?
The first step in creating an office pod is figuring out what you want it to do. Is it going to be a meeting room? A quiet place for employees who work remotely? Will it be a collaborative space for brainstorming sessions? Once you know, it's time to figure out how the pod should look and feel.
Office pods have been a popular subject in the office space. They are an excellent solution for small businesses that want a more private workspace without paying for an entire office. Office pods are also helpful for large companies that need temporary offices for projects or new hires.
Look At Other Companies For Solutions That Work
An excellent way to start is by looking at other companies that have successfully implemented pods in their offices. Here are some examples of pods that work well:
The office is designed around pods, so there's no need for a conference room or private office space. This saves money on construction and furniture because everything can be made of flexible materials that can easily be rearranged.
The interior of each pod is custom-designed to fit the needs of its occupant(s). Some pods have large windows so people can see what's happening outside while they're working inside; others feature acoustic treatments so noise from other pods won't disturb them
Location is the first thing you need to consider when integrating pods into your office. If you have the space, consider placing them in a communal area where everyone can see and interact. This will encourage collaboration between employees and make the pods useful for everyone in the company.
If you don't have enough room for this setup, consider placing pods in separate work areas instead. This will allow employees who don't want to use them to keep them out of sight if they prefer not to be distracted by other people's activities while they're working.
Office Pods Can Be Used In A Range Of Ways
Another option is placing the pods in an area where they won't distract anyone who doesn't want to use them; this could include putting them in a break room or other common area where people take breaks from their desks during the day.
Office meeting pods are great for small meetings but can also be used as conference rooms if you have a large team that needs to meet regularly. You may not even need more than one pod for each team member because they allow them to work privately without having to share one desk with another person.
If your workplace has more than one floor, you may consider using office pods as break rooms or lounges for your employees. They're large enough that people can relax in them without feeling cramped, plus there's enough space for tables and chairs for those who want a quick lunch break.
Contact Fusion Office Design For Office Pods Today
If you're looking for a way to break up the monotony of your office space and add a little personality, office pods might be the answer. Not only are they fun and unique, but they can also help improve productivity and collaboration. 
Contact Fusion Office Design today to learn more about how we can help you integrate office pods into your space. We would be happy to discuss your specific needs and recommend the best option for you!