A white linear reception desk has been installed for Active Digital in Paddock Wood, Kent. Replacing an old reception desk that not only looked a bit dated but also had some problems in terms of usable space, the new white linear reception desk has been a popular upgrade to the offices.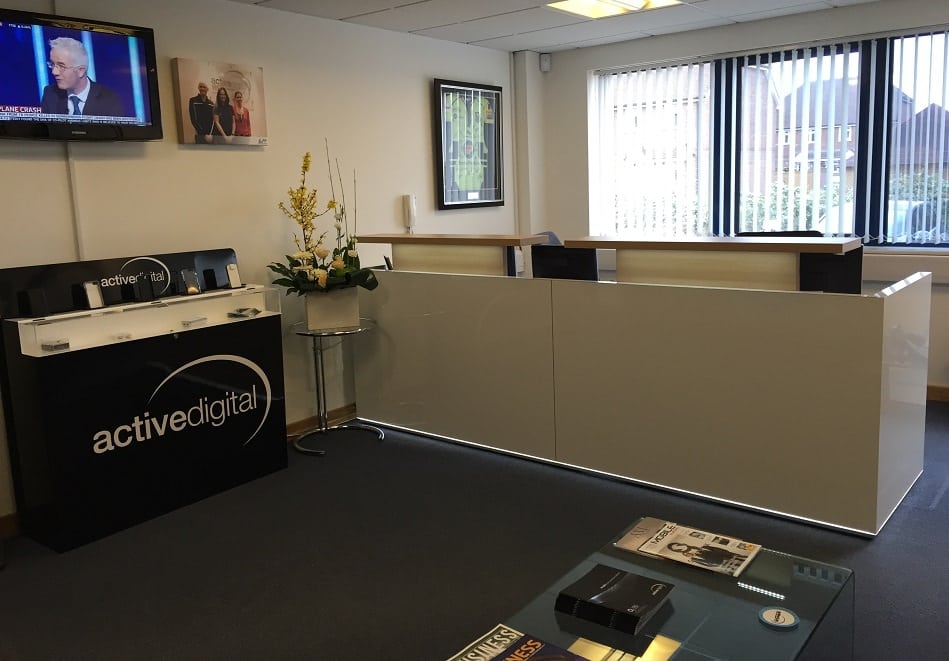 Commenting on the desk, MD Richard was pleasantly surprised by the discreet plinth lighting, and receptionist Louise is delighted at the extra space compared to the previous desk. The overall first impression is much more contemporary and better presents Active as a tech company operating within the mobile telephony field.
Reception desk design
The design of this white linear reception desk makes use of a simple form, crisp lines, with accent details to create a reception desk that enhances the quality of the space without effort. Using two counter-shelves allows the body of the linear reception desk to be lower making the desk less imposing. Within a typical reception space this keeps the furniture in proportion unlike some reception desks that become overbearing, a common design flaw. The slim LED plinth lighting appears to make the reception desk wider, adding to its linear style.
Lighting is also used underneath the two counter shelves, washing the upstands with cool light. Concealed lighting is a cutting-edge design feature providing illumination to the reception desk without the light source being visible. In strong daylight conditions the effect is very subtle but as the external light fades so the desk lighting becomes more effective.
To see more linear reception desks click here. Or contact our team here at Fusion Office Design to find out more about office furniture options.