Office Design Trends – Proliferating Pods
Office design trends are seeing the emergence of a vast range of workpods as office interiors increasingly move away from static work modes. Furniture designers are leading the drive towards new ways of working as furniture-based solutions satisfy demand for versatile office interiors.
WorkPods are a mid-point between desks on the one hand and enclosed meeting rooms on the other. A traditional desk, especially in a bench format so popular over the last 10 years, restricts collaborative working. Enclosed meeting rooms are inflexible. Forever booked, or the wrong size, or simply too formal, a meeting room has less value for drop-in drop-out working styles.
Alongside this trend for ad-hoc groups and work huddles, 'hot' workers are driving demand for versatile spaces. On-demand staff attendance in offices is a pull-factor for office designers. Short spells in the office place a premium on availability of colleagues that hot workers need to work alongside. Restrictions on collaborative space have the potential to be a source of frustration.
Put together these two factors, collaborative working and limited availability for hot working, are influencing office design trends. The designers' response was initially to add open team spaces. Usually tech-enabled tables these hot zones are flexible and support team groups or several individuals. However limitations of open touchdown points are the spill-over of noise making them a little too distracting in proximity to desk areas.
The answer seems to be workpods in all their glorious types, shapes and styles.
Work Pods

Cocoon pods use an upholstered wraparound design style to great effect, as a semi-enclosed pod and also as a backdrop for secondary spaces. Similar in concept but made in a very different way are open plan office cubicles. These pods have a more rigid exterior and feel booth-like. Ironically cubicle working US-style is the antithesis of open plan offices.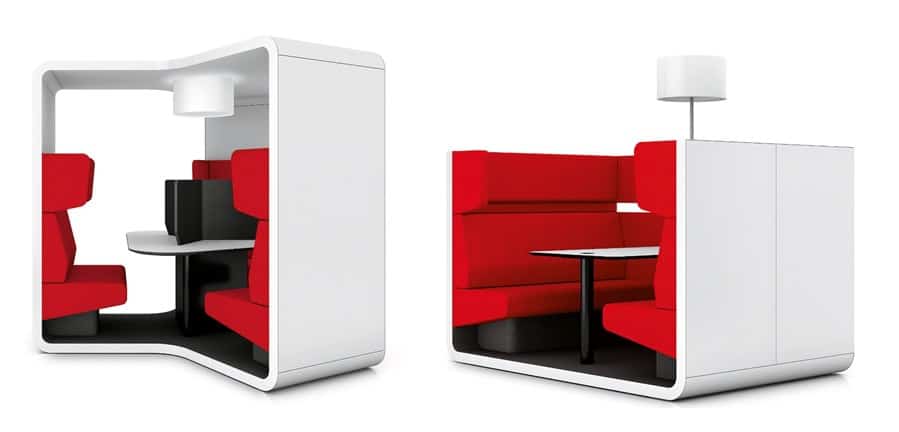 Increasingly popular office work pods come in the form of screened or part-screened touchdown pods. These soft form islands can happily be desks and team tables, reacting to demand.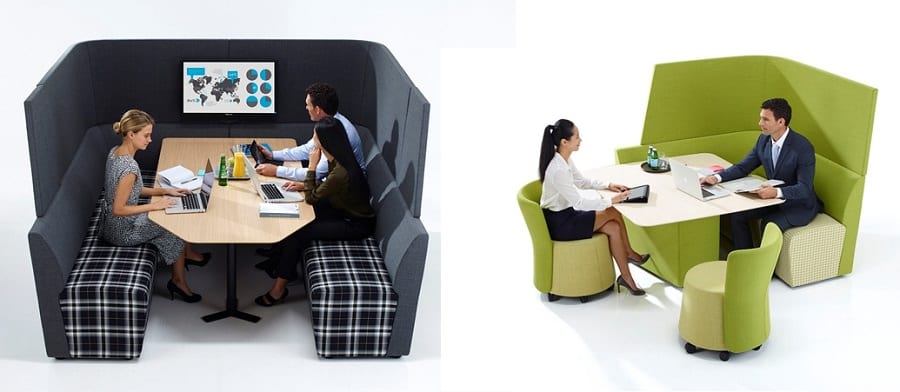 The height of an open plan office pod has a strong influence on the overall look and feel of the office. Here office design trends are subject to requirements for noise control and avoiding distraction. Taller pods control sound and disturbance better but will dominate the 'skyline' of the office. Taller pods are often used as touchdown zones or for concentration spaces. These pod styles still have all the advantages of flexible, easy-to-move, furniture solutions.

Where pods and design really work well is in the scope for the office fit out designer to match function along with aesthetics. Office design trends for pods and office interiors generally are seeing the overlap of lounge-like styles with the proportions and practicalities of office furniture. Most pods will come enabled for power and AV, allowing users to plug and play whilst still managing to look domestic, or certainly less like a conventional office item.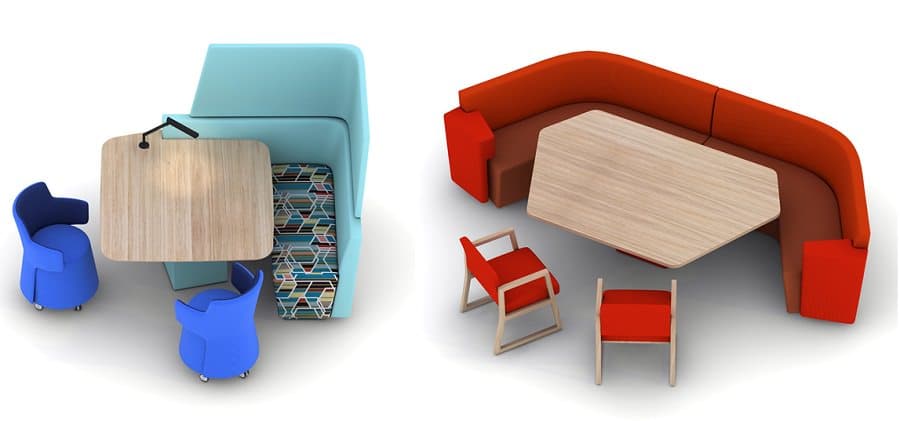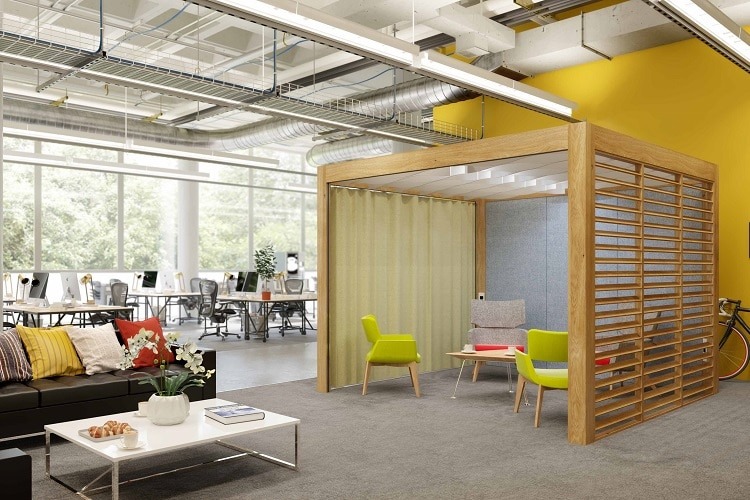 Team breakout pods such as these, above, really show the latest in office design trends. The shapes and finishes, integration of worksurfaces into a soft-seating format, and inclusion of services, are the types of solutions that will be common in open plan offices over the next year or two. The 'win' for organisations is that these make everyone happy. Staff as they support the working styles people want. FMs as they are easy to drop in or move, and organisations because these furniture based ways of working can be trialled, improved and developed and designers because they can be styled to work for the overall scheme.
Contact Fusion Office Design for a PDF containing the full review of pods in every format.