Whiteboard Rail System Installation
Here at Fusion Office Design, we offer whiteboard rail system installation for clients across the UK, you can read on to find out more or contact one of our team members. 
Newly installed whiteboard rail system using our track-mounted sliding whiteboards, at an office in Manchester. Rail mounted whiteboards usually refer to wall-mounted rails, but here our whiteboards are on floor and ceiling rails, allowing the sliding whiteboards to be used in front of windows. The 1960's office building in the Riverside development by the river Irwell is almost entirely glazed except for the columns, offering almost no space for conventional wall-mounted rails.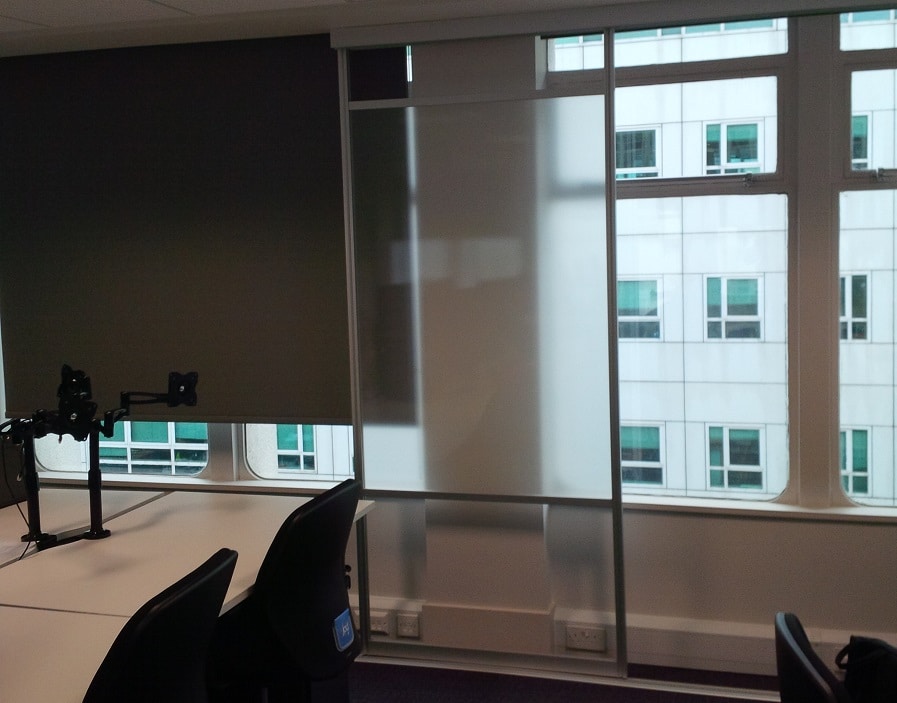 The gap at base level works perfectly with the perimeter trunking. Cables and sockets are accessible even when a whiteboard is positioned directly in front. The rails in this office are twin-track, with triple track available as well. The semi-transparent whiteboards are designed to allow natural light to be retained, with the text being back-lit by the daylight. Options include solid whiteboards, magnetic, sliding glass whiteboards, chalkboard, and sliding pinnable boards. The gap shown in this installation is optional, the whiteboards can be full-height if preferred.