Whiteboard sliding rail system.
Fusion have successfully worked with US dealer System Source Inc to install a whiteboard sliding rail system for Lend Lease in Chicago. The distinctive movable whiteboard panels have black painted framework with solid double-sided magnetic boards.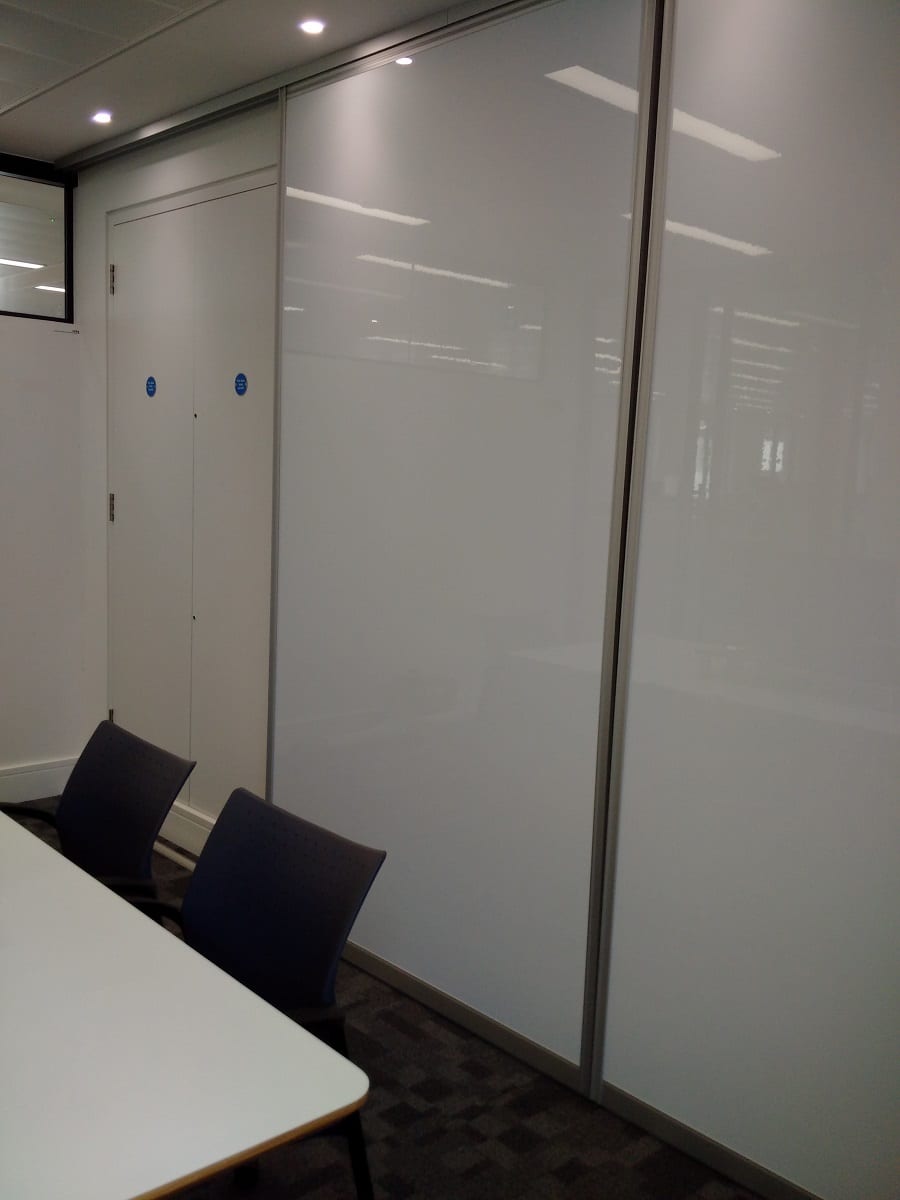 Our whiteboard system has all the weight on the base track, with a headtrack used just to keep the whiteboards upright and as a guide for sliding. In this installation the ceiling is open and the headtrack has been fixed using strut supports nestled between light fittings. Fusion have now installed our whiteboard system in Chicago, Charlotte NC, Reston VA, Farmington CT near New York, and in Vancouver BC. Working with US dealers to provide a local installation service our whiteboard sliding rail system is easy to fix either as part of a new fit-out or as a retro-fit. Ceilings require minimal adaptation, in most cases no work to ceilings is required at all. The base tracks can be inset into carpet or fixed on top of the floor using a very low profile, radiused edge, track that has no trip-hazard problems. Tracks can be single, double, triple or used in combination so that multiple panels can be nested.

Movable Whiteboards
Sliding whiteboards can be used in many configurations. Using the semi-transparent panels works well in front of windows. Solid panels make great whiteboard wall surfaces and are particularly effective when access is required to, say, a riser door. A recent project also uses the whiteboard walls to create screened team spaces for process meetings and workflow sessions. These lightweight meeting areas are halfway between fully enclosed meeting rooms and open breakout spaces. In residential design this division of space is called broken plan and this installation for Lend Lease in Chicago is an example of the spill-over into broken plan office design.
Visit our Sliding Whiteboard page to see images on the system. Installation shots show all the panel types including glass whiteboards, semi-transparent and solid whiteboard. The panels are typically 1m or 1.2m wide with a new option being developed to allow portrait whiteboards up to 1.5m wide (60″) and heights up to 3m (118″). Standard metalwork finish is silver, and powder coated finishes including white and black have been produced as specials.
Click here to visit the Sliding Whiteboard page. Or contact our team here at Fusion Office Design for more information.