Whiteboards for Glass Partitions
Sliding mobile whiteboards for a glass meeting room have been installed for Nissan UK in Hertfordshire. The boardroom has a glass partition wall and external windows on the two long sides. As the room is very long having whiteboards at one end can be difficult to read from the far end. The solution is the Fusion sliding mobile whiteboard system installed in front of the glass partition wall.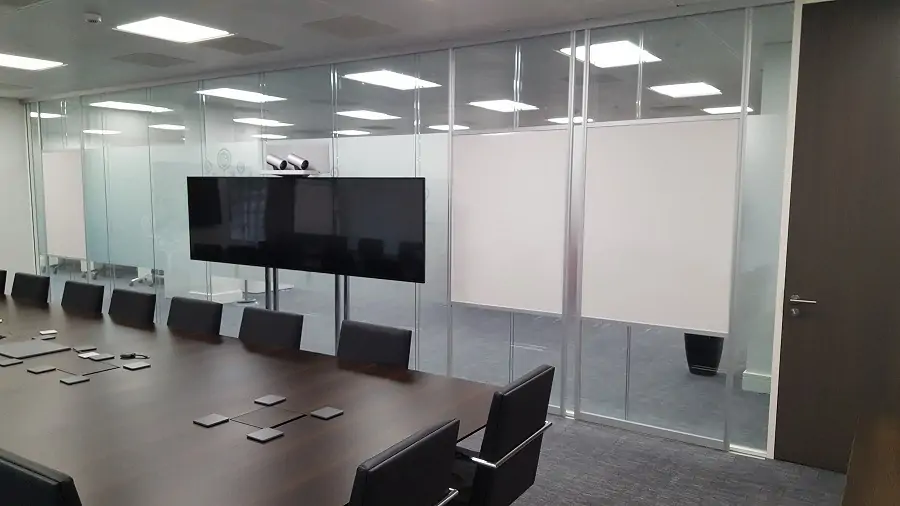 The whiteboards align with the manifestation so the view from outside the meeting room is maintained. Tracks for the sliding whiteboards run the length of the glazed wall allowing the whiteboards to slide on integral wheels to any point including behind the TV.

Whiteboard Sliding Rail System
Nissan chose solid magnetic whiteboards for this installation, or the semi-transparent whiteboards could have worked equally as well. Our Whiteboard sliding rail system is a high quality product that works well with other office interior systems such as glazed partitions.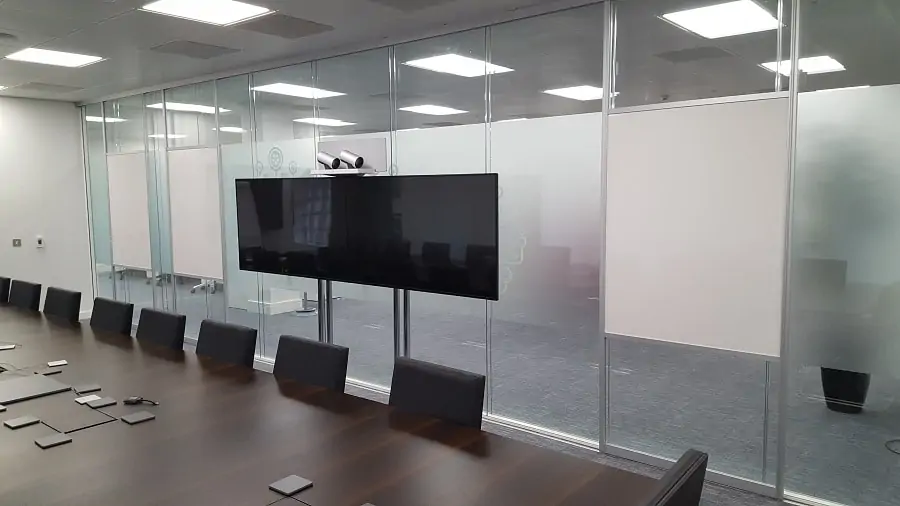 Extra whiteboards can be quickly and easily added if required, as the track has capacity for more of the sliding panels. As the TV was already in place Nissan requested a single track so that the whiteboards fit in the gap between the glazing and the TV stand. Fusion also offer multiple tracks so that boards can 'nest' or pass each other.

Mobile Whiteboards And Glass Walls
Using whiteboards in a glass meeting room or office has previously been a challenge. Temporary solutions such as mobile whiteboard stands or the giant stick-on sheets are useful but our sliding system has a solidity and quality that works well and maintains the ability to move the whiteboards. Installing the whiteboards doesn't involve alterations to ceilings, can be retro fitted, and boards removed quickly if needed. As these images show, using whiteboards in front of glass walls doesn't affect the glazing in any way. These whiteboards were installed in hours with minimal disruption to the working office.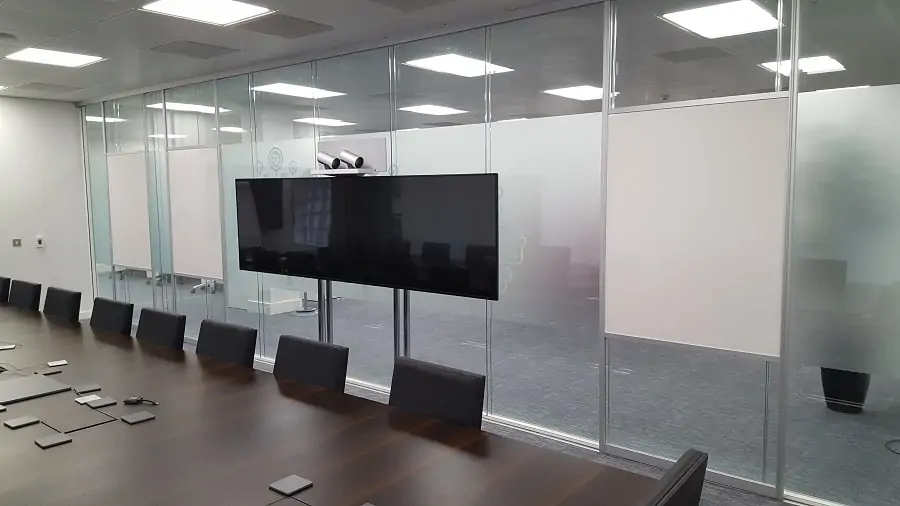 Contact Fusion for a quote on our sliding whiteboards for your glass meeting room, or click here to see images showing the ways our versatile whiteboard system can be used as space dividers, doors, and room enclosures as well as mobile sliding whiteboards in front of windows and glass walls.