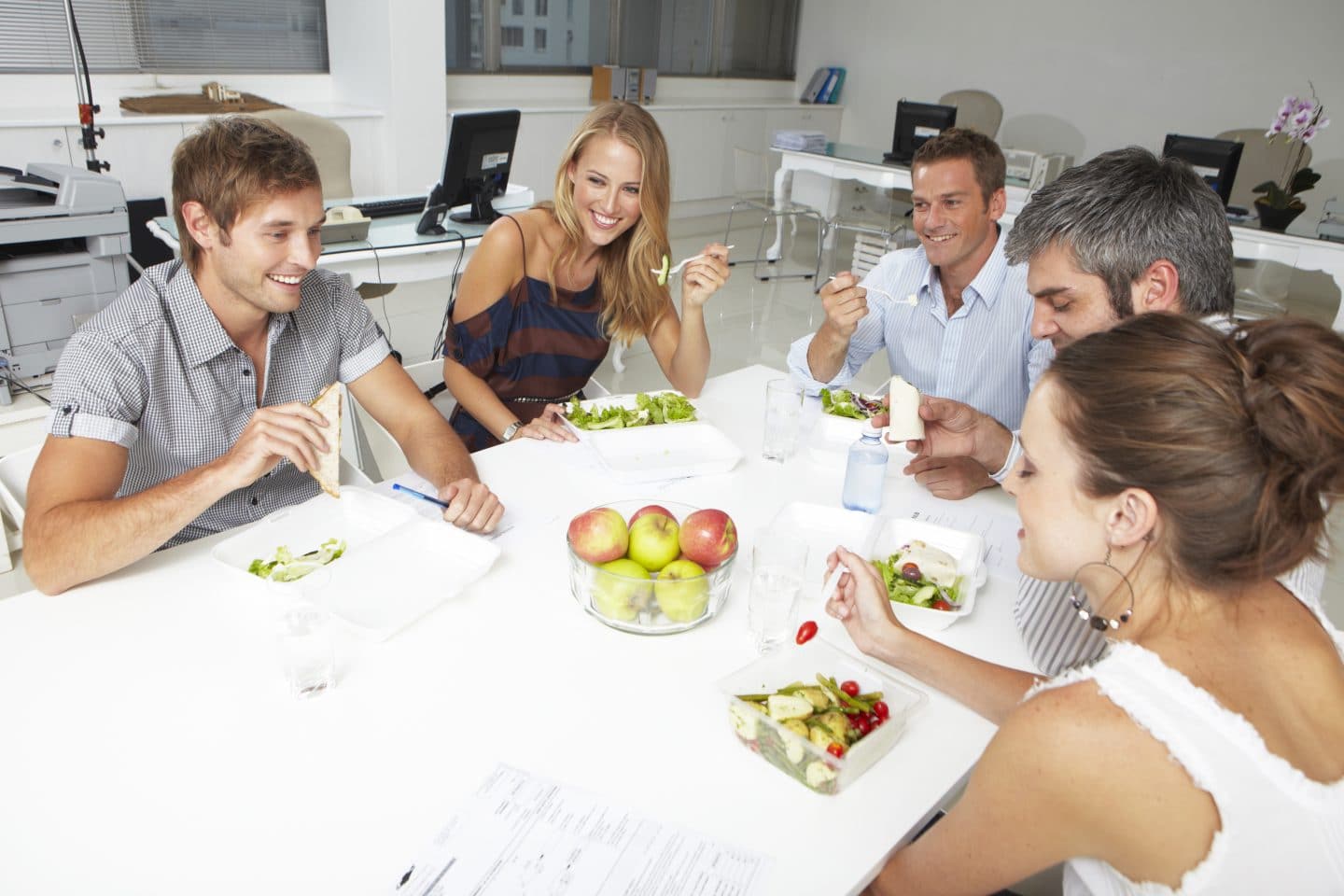 Office workers are statistically most likely to snack for comfort throughout the day, but sitting at a desk all day without moving much can have a negative impact on your health. Combine the lack of movement with a range of tasty treats and it's a recipe for an unhealthy employee.
Food can actually influence how we feel throughout the day and can determine when our brains are alert and productive. A few employees may thrive from eating unhealthy snacks throughout the day, while the majority of us will actually end up feeling worse from eating bad food.
So what can be done to ensure your employees don't end up suffering from bad habits?
Below, we have listed 5 top ways to boost your staff's productivity through encouraging healthy (not always eating) habits in the office.
1. Removing Temptation
An unhealthy snack or two throughout the week is probably OK, but snacking in large doses every day can be really bad for you. The best thing you can do as an employer is to remove all temptation from the office. Biscuits, chocolate bars and sweets can be really detrimental to your health as they are loaded with sugar and fat that are digested fast. These types of foods don't keep you full for long and will leave you wanting more…
As an employer, you might want to think about incorporating fruit and other healthy snacks into the office. This will remove the temptation for your staff to eat unhealthy foods like biscuits and chocolate and provide them with a healthy alternative. After all, who can just have one biscuit and walk away?
2. Introduce Healthy Choices
It's not all about fruit though. Look for low-sugar versions of any other food options you provide for your staff. Spreads for bread can easily be swapped for healthier alternatives, as can the cereals in your kitchen cupboard.
You want to try and keep your staff's blood sugar more regulated throughout the day. This will help to prevent the sugar-dips you might see in staff at various points of the day.
3. Encourage Breakfast
Studies show that an alarming number of people skip breakfast on a morning, meaning they are missing out on key fuel to start the day. A lot of people claim they 'don't have time' to eat breakfast as they spend time getting ready and travelling to work. Providing healthy cereals and other healthy breakfast options for your staff to eat when they get to work will set them up nicely for the day.
As an employer, you should do what you can to encourage staff to eat breakfast – the most important meal of the day. A fridge and a microwave will naturally increase the number of people that eat breakfast before work, though you could also consider putting on a breakfast club.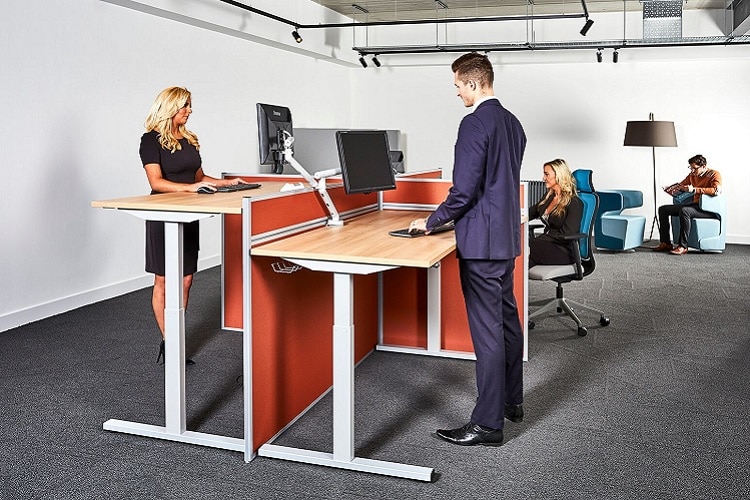 4. Standing Up Zones
Promoting healthier eating options as a good start if you are attempting to create a healthier office, but how do you about getting desk-workers more active.
One clever way to get staff on their feet (literally) is to employ standing desks throughout the office. As humans we spend a lot of time in the sitting position, whether that be at a desk, driving to work, eating or watching TV. While working on your feet at a standing desk might seem unusual at first, it can actually have a number of health benefits.
Standing can burn up to 50 calories more per hour than sitting. Assuming you don't stand to work all day and maybe just 3/4, you could burn up to 200 calories extra a day (or 1000 in a working week). To put things into perspective, this is the same as an intense fitness class.
5. Taking Breaks
Encourage your staff to leave their desks at break times to get away from their screens. If you can, provide ways for staff to have a proper break that doesn't involve sitting down, looking at computer screen or a phone. If you can get staff outside somehow, great, but in the cold, winter months, this isn't always feasible. Indoor activities that involve being away from your desk, such as pool tables, ping pong tables and dart boards are great if you have the budget/space to introduce them.
A healthy office is a happy, more productive and motivated office. Fresh air breaks, healthier snacks and activities to get staff away from their screens will make a massive difference in the long run.
If you would like more information get in touch with of our team members at Fusion Office Design.