Horizontal sliding whiteboard system
Just installed at leading research and data analysis organisation, our horizontal sliding whiteboards are shown here with black frames and glass whiteboards. The Fusion horizontal sliding whiteboard system has been used in a variety of settings including perimeter in front of windows, against solid walls to add more surface area, as writable space dividers and mobile idea boards.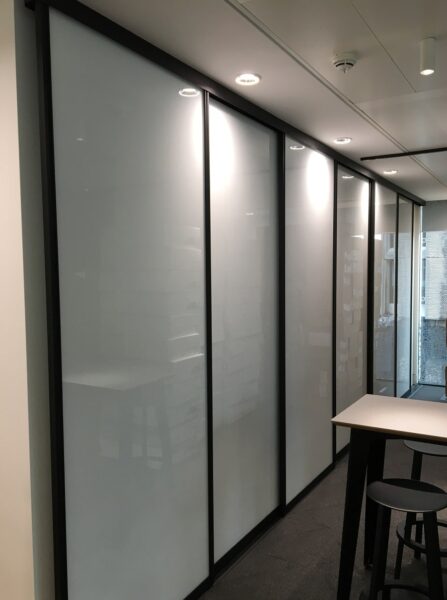 The double tracks allow the glass whiteboards to slide effortlessly. Boards can be moved into view or away to one side, giving freedom to explore and collaborate without scrubbing-off to free up whiteboard space.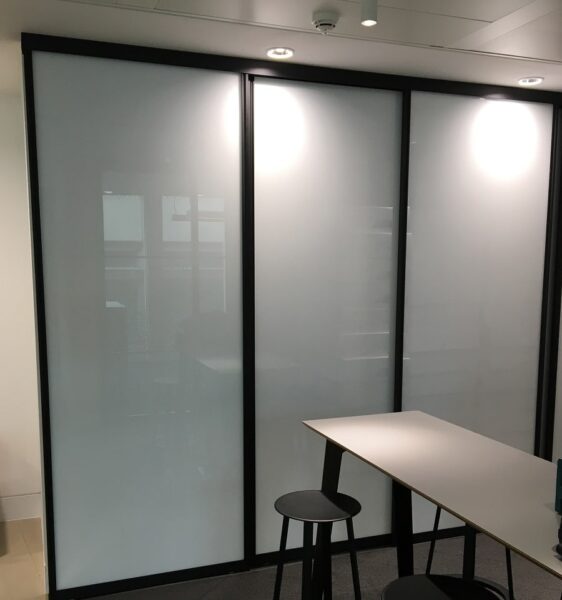 The wall behind this whiteboard installation has riser access doors. Placing sliding whiteboards over the riser doors gives full access when needed with a usable wall space that would otherwise have been lost for office use. Our sliding whiteboards help to maximise the productivity from commercial buildings.
A great advantage of our horizontal sliding white boards is the avoidance of any ceiling alterations. This has two benefits. Initial installation is quick and easy as there are no alterations to ceilings. At the end of a Lease its very easy to remove the head and base tracks and completely eliminates any dilaps costs as the ceiling doesn't need to be reinstated or repaired.
There are many more examples of our horizontal sliding whiteboard system shown on the main sliding whiteboard product page, or scroll through our blogs to see other site installations in the UK and around the world. Our system is easily installed to any building with a ceiling height below 3m (10′). Tracks are fitted prior to or on top of floor finishes and there's no weight loading on the top track meaning no need to reinforce ceilings and alter the ceiling for the tracks. Retro-fitting is quick and problem-free. Our system has high-quality running gear allowing the panels to move easily. Whiteboards are simple to remove or move around so long as tracks are in place.
The whiteboards are available as semi-transparent for use in front of windows; solid magnetic and glass boards. Single and double-sided is also an option. You can choose the height of the board within the frame. Full height whiteboards as in this installation offer full concealment. Panels partially infilled allow for air circulation, transition of external light and are the lightest weight.
Contact Fusion for more information, we can offer you both office fit out services and office design.