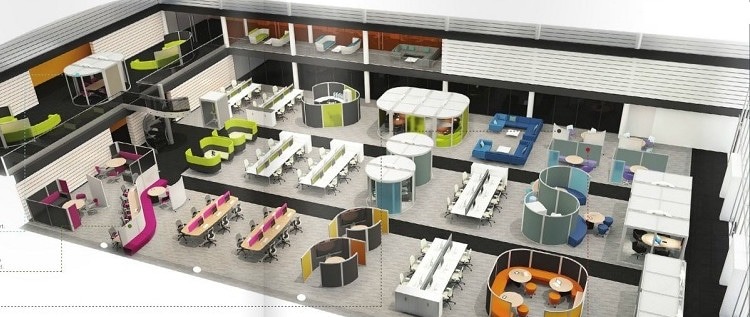 Improving satisfaction with office designs Better Office Design
Is office design delivering to its potential? Almost half the office workers in the UK report some dissatisfaction with their offices. This can be a significant cost to the bottom line via a number of routes. Higher staff turnover, lower productivity and disengagement are all possibilities.
Fusion Office Design can highlight 5 suggested solutions for better office design that don't entail subjective design elements, wholesale office redesign or another clean sheet. Simple space planning and management related improvements can make a whole lot of difference.
Eliminate the productivity killers: limited space between desks, noise levels and clear extents of a desk are all highly cited factors. This suggests proximity to people with differing work habits, intolerance of noise, and simply adequate space to circulate, are all elements that can add a positive uplift when improved.
Space planning for offices in London and the South East frequently starts-off with the objective of high staff density. If this is a must, consider noise reducing screens, acoustic panels to absorb noise, and careful 'policing' of circulation space to ensure the floor doesn't become a storage and filing substitute.
Complex work roles equals higher expectations. The flattening of the workplace hierarchy as it's played-out in terms of cellular offices and 'management' space means staff with more demanding roles become more dissatisfied. Senior staff get the same bench desking as staff with simpler job roles. This can be resolved by simple enhancements for senior staff or for workers with more complex tasks. A little more space; a desk that is positioned at the end of a group or more access to 3rd spaces such as quiet rooms. Whatever the technique, recognising and reflecting complexity of tasks will greatly increase the satisfaction with an office design.
Embrace open plan and make it work better. Research shows open plan offices are as effective for staff as cellular environments, and cost effective for organisations. The best approach is to manage open plan to squeeze every benefit, and eliminate every aggravation. Positive management through policing, through town-hall discussions to identify dislikes, and most of all empowerment of people to make positive changes, can work wonders for minimal costs.
The office can so easily just exist, through days and weeks, once the sheen of a new office interior design has dulled. A monthly review of the 'unmoving', a cull of the unneeded, and a simple spruce up for shared spaces, can send out the message that the office is valued and is to be respected.
Interestingly the office is one of the few corporate assets that are regularly overlooked for a bit of TLC, until it becomes a serious problem, amongst business that don't have a professional facilities team.
Workplace transformation projects can have too many targets. The best projects in terms of improving the working experience will have the most defined objectives. It sounds simple, but is often clouded in competing demands.
Fusion suggest a tier 1 set of objectives…the must-haves…for every office redesign project. Designs that best meet these aims will also be the easiest to present to employees and are likely to be most understood.
Changing the way we work doesn't just happen because a new office design presents new ways of working. Managers and designers alike see new furniture solutions and activity based working as emblems of new ways of working. These could unleash productivity in the office and give staff greater satisfaction.
In reality this hit and hope approach has no support from evidence gleaned by post occupation surveys. A few people will 'get it', a few will contrive to take ownership of somewhere that could be an office, and most just keep on working at a desk. The design process often makes use of hero images, the glamour offices up for industry design awards. Look past the eye-catching shots and read how these offices are for young tech companies hosting millenials in trendy parts of a city. In reality this may not apply to every business.
The missing component is consulting and then, if new ways of working are desired, training people to work differently. What are the advantages; how is a new way of working a win, and what are the circumstances that mean activity-based office designs are useful.
Put another way…new ways of working requires new ways of thinking about the office, and this happens if you enlighten people to the possibilities.
Fusion have many years experience in designing effective office interiors. We present ideas and opportunities, and if they're right for your organisation we can champion the changes. But we won't sell you the kings new clothes.
Get in touch with our team if you have any more questions or queries regarding the office fit out services we can offer you.