We have dived into the upcoming office design trends that will shape the working world in 2018. From this, we have taken the office design trends that are set to take off and condensed them into this handy
Office Design Guide for 2018…
The Workplace of Today
The workplace of today has changed hugely in recent years, not only because space is becoming more competitive, forcing companies to get creative with the space they do have. But because the demands of work are growing and calling for more productivity, creativity and innovation. This means the workspace needs to be a place that can provide a bit of everything in the bid to achieve these three points each working day.
If you are thinking of refurbishing your office, moving office and needing an office fit out or just looking at an office redesign to fit your growing company, we can help. Here, we go through the many design trends that you should consider to get the most from your workforce and get ahead of the competition…
Unconventional Work Spaces
Unconventional workspaces have seen a huge rise in popularity thanks to the battle of office space in general. Those areas that were once considered useless i.e. spaces under stairs, corridors, nooks and crannies, are now becoming useful as breakout areas, relaxing spaces or hot desks thanks to the ever growing abilities of portable technology.
Looking at your office design, these spaces may currently be vacant or simply being used as storage spaces. These could be transformed into working areas to increase your office productivity and creativity of your office design.
Open Collaborative Space
In the bid for creativity and innovation, space to collaborate is vital, but not always possible in standard office spaces. Having open plan areas can encourage idea generation, open discussions and a more welcoming environment for visitors, stakeholders, employees and more. Refurbishing your office space to take down some partition walls could be the way forward this year as 2018 sees open plan (across all interior design) take over.
Tearing Down Walls
Taking this further is the trend of tearing down walls, particularly for meeting rooms and spaces, instead opting for meeting areas or pods. Another way that the tearing down walls trend is being translated is by using other materials to partition areas (instead of having walls) i.e. shelving, garden walls or planting shelves, and storage displays. Mixing up the mediums and creating more open spaces that have partial separations is a great way to keep the space creative and semi private at the same time, especially if you're short of space, like most offices in London are!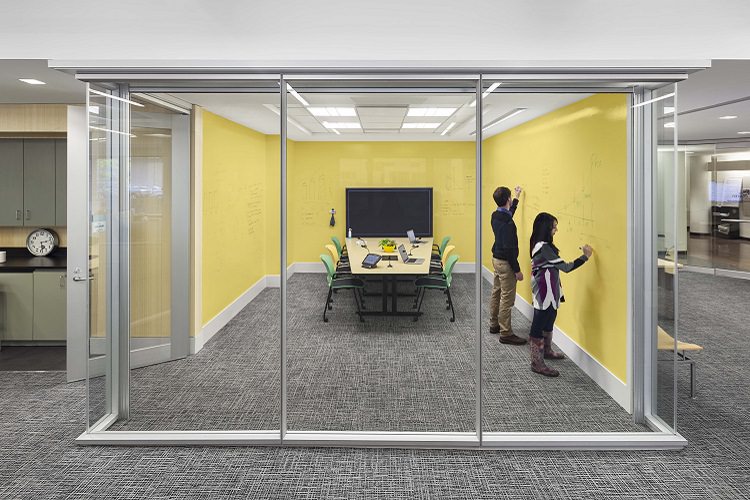 Recharging Your Workplace Batteries
Having spaces available for your workforce to relax is a growing necessity to get the best level of work and productivity for your business. Having a separate area for coffees, breaks and even naps is proving a great selling point for potential employees. In terms of office design, having this area look like a residential kitchen or a hipster cafe is a great design trend that can hep you differentiate the space.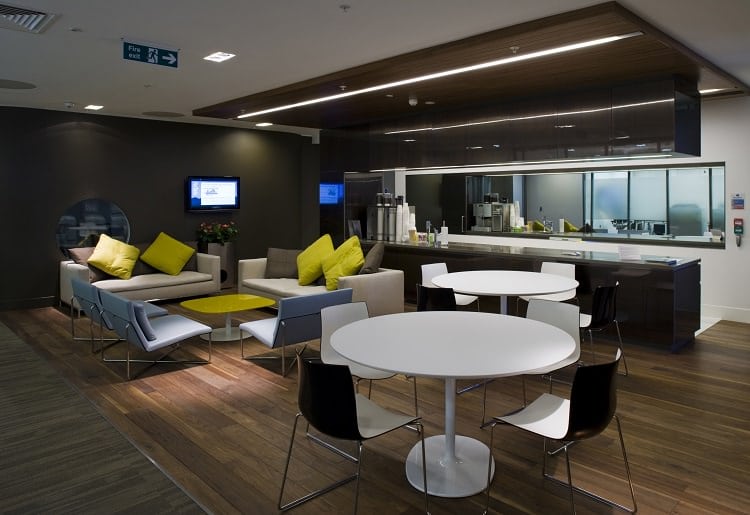 Textures and Finishes
Textures and finishes are the best way to evoke creativity or focus. A colour on a wall can have a great impact on the working day. Keeping your textures varied is the key to this trend, mixing materials and colours to create a visual space is a must for 2018.
Natural textures like wood, stone and metals are a great starting point. Mixing this with soft colours or greenery bring elements of the outdoors inside, creating a natural and fresh office environment in which to work.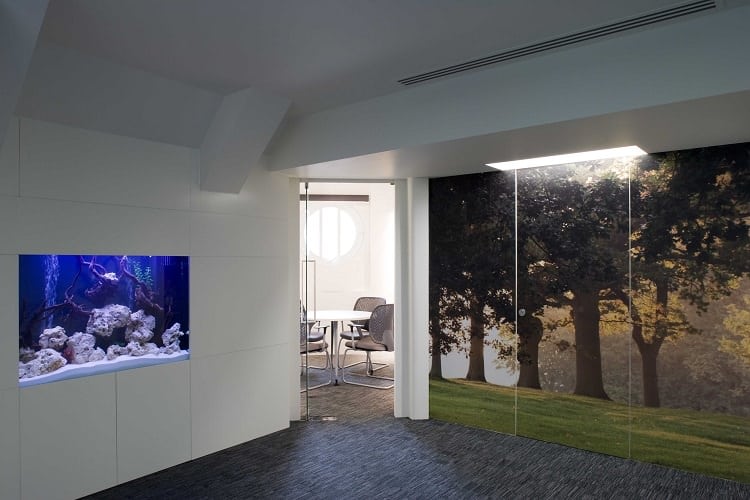 Greening the Office
Building on the natural finishes is the need for greenery. This is a trend that is always mentioned but this year is seemingly taking off. With the increase in demand for plants like cactuses and other plants due to their healing benefits is the way office trends are creating an environment that people thrive in. Looking after peoples health and mind is becoming the driving force behind plants in the office.
Office Colours
We have already touched on office colours, however psychologists and interior designers are finding more and more evidence for the effects of colours on the productivity of the workforce and overall feel of an office space. Making your office space welcoming is a must. The colours also need to evoke focus and creativity and on the flip side calmness and relaxation for those vital breakout areas. Picking colours to suit automatically means an environment that involves a mix and match approach to office design.
Pantone have quite literally set the tone for 2018 with the release of Ultraviolet as their colour of the year.
Inclusion and Accessibility, Dynamic Spaces
A major trend of 2018 is office space that suits all needs and accessibility requirements. Whether that be to accommodate physical impairments or otherwise, we no longer live in a one-desk-fits-all workplace. People now have total control over their desk height, chairs, and spaces. Some companies have even introduced quiet, library-like areas for focus and deliberation.
Layout and Collaboration
Taking this office trend further is the layout of an office, as previously mentioned, an open plan layout is becoming more preferred among offices. Having a layout that encourages cross functioning, collaboration and relationship building as well as individual working and focus is a fine balance. Our team of experts are well adept at taking a space and transforming it through an office fit out, to create such a space.
Home Style Comfort Design
Another major trend of 2018 is that of homestyle design. Replicating home design in the work place is has helped to get employees working longer, feeling relaxed and comfortable. This will help to get the best out of each employee. This trend is being driven by the millennial favouritism of the unconventional, comfort and hands on involvement coupled with the impacts of the working environment on the work force and you've got home style design as part of your new office design.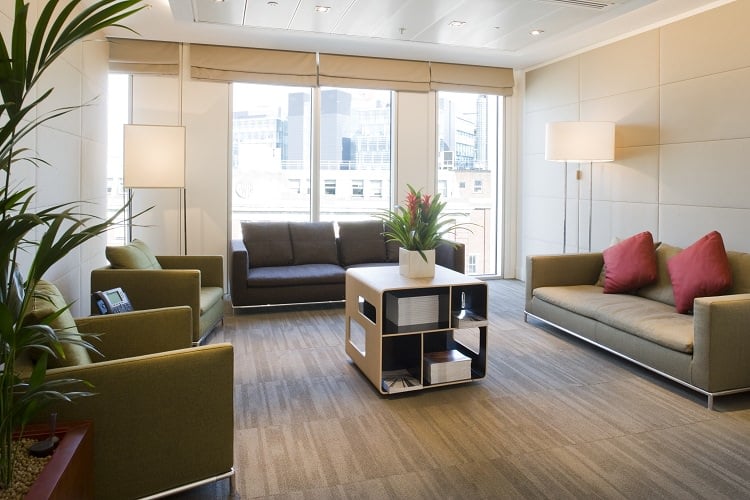 Contact Us
Here at Fusion Office Design, we are always looking for the latest trends to enhance your work space and office layout. We offer office fit outs and office refurbishments to help you achieve your dream office.
To top off your finished design, we also look at various forms of office furniture such as; seating pods and bespoke furniture in a range of materials to suit your finished look.
If you're based in London or the surrounding areas and would like to discuss the options available for bringing your office space into 2018, simply get in touch with us today and call; 020 8251 0692.