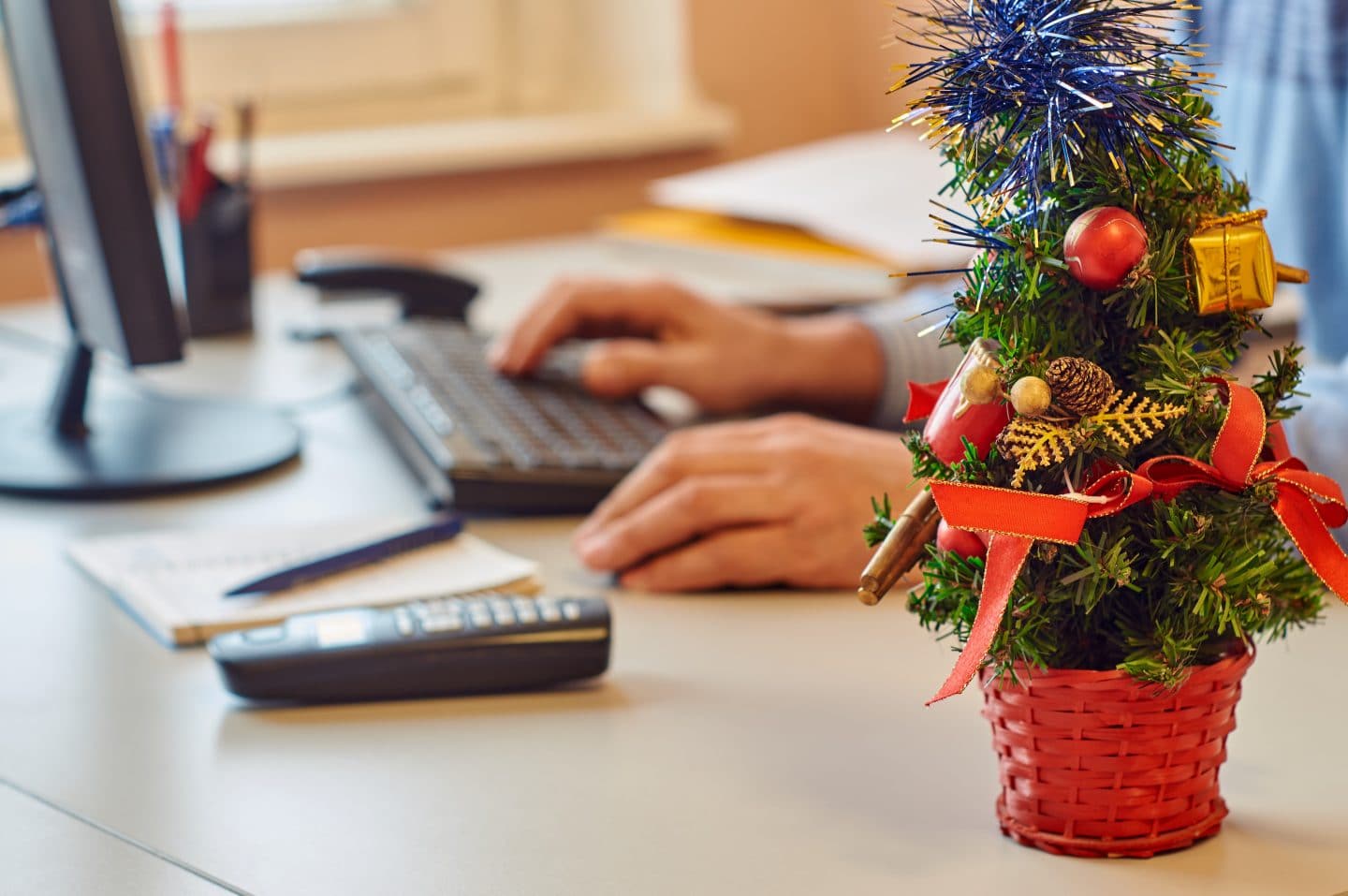 It seems a long time ago now that we were all basking in the heat of summer, hoping that the sunshine would last forever, though simultaneously complaining that it was too hot. The days are much, much colder now and shorter too, meaning darker nights and wintery chills.
Winter is certainly here and that can only mean one thing – Christmas is just around the corner… One of the best things about winter is Christmas. Work becomes a lot more bearable knowing that Father Christmas will be soon be shooting down our chimneys, but how can you maximise your space at work this Christmas time?
Below, our team here at Fusion Office Design have listed 5 top ways you can enhance your office this Christmas – to make everyone feel a bit more festive!
1. Communal Seating
One of the best things you can do to enhance your office this Christmas is to add communal seating or breakout furniture.
Communal seating provides an excellent way for colleagues to get together during the festive period, whether this be at lunch, during breaks or before/after work. In order to accommodate everyone and get as people involved as possible, communal seating is a must-have. The right seating will add a new dynamic to your office, providing staff with a place they can go to interact with their work friends.
2. Play Games
If you don't play games in your office during the festive period, you're truly missing out.
Playing games is a great way to boost morale and put a smile on everyone's face. As with communal seating, it's also a great way to get everyone talking to each other or working as a team. The right games can be used as "team-bonding" (if you want to try and keep things professional), though you might be better off biting the bullet and investing in a ping-pong table or pool table to say thanks to your staff for working so hard this year. You could even arrange a festive tournament with a prize for the winner if you so choose.
3. Think About Colour
It's not all about breaks and games, there is still work to be done – even when it's nearly Christmas.It can be hard for staff to stay motivated as they look forward to having a break and think about buying presents, so how can you liven things up a bit?
Think about adding some colourful furniture to the office to get away from all the cold, dark and grey things happening outside. Low-cost furniture like bean bags can help to brighten your office up this winter, providing practical seating alternatives for break-out or meeting spaces.
4. Add Some Festive Decor
It's bizarre to think that some offices don't put a tree up at Christmas, so if you fall into this category – stop it!
Adding some festive decor to your office will help to keep spirits high throughout winter in the lead up to Christmas. Tinsel and baubles are obvious, but why not go the extra mile and look at adding some festive frames to your walls, with classic Christmas images or modern artistic takes on famous nativity scenes. When Christmas is over, it's easy to revert back to the frames/canvases you had up previously, without too much trouble.
5. Raise a Glass
Most of us like to have a tipple at Christmas, so why not look at integrating a bar into your office design? This will give your staff extra space to unwind, relax or get together at Christmas time.
Worried about certain individuals driving home after hosting a social event in the office? Why not ask staff to give you their car keys as an entry fee in exchange for use of the bar? Whichever way you look at it – an integrated bar in the office is a cool thing to have.